Broadcast News
29/11/2012
Stars In Danger: High Diving Sold To China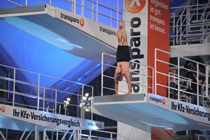 Banijay International's diving format, Stars In Danger: High Diving has been licensed to China's Jiangsu Satellite Channel just ahead of next week's Asia TV Forum 2012.
Soon to go into production, 10 x 90' episodes of the infectiously popular format are to air in a prime time weekend slot from Spring 2013. The show will be produced in house by Jiangsu TV.
As per the original German format, devised by Banijay Group company Brainpool and aired on ProSieben since 2004, the local adaption will see celebrities given a crash course in diving under the instruction of China's most elite professionals before facing their fears and taking to the high diving board. Taped in front of a live audience on location in an Olympic-size swimming pool, Stars In Danger: High Diving will feature stars from the worlds of music, TV, film and pop culture plunging into a whole new discipline.
Jiangsu Satellite Channel, China's largest commercial broadcaster, is the latest in a series of broadcasters which have licensed the format. Stars In Danger: High Diving has also recently sold to Fox US, TV2 Norway and TV3 Sweden.
Karoline Spodsberg, Managing Director Banijay International said: "China is becoming an increasingly important format market, as we see more and more international hit formats travelling there. I'm delighted to be partnering with China's most popular satellite channel, Jiangsu, which reaches upwards of a billion viewers."
Stars In Danger: High Diving ("TV total Turmspringen") is a Friday/Saturday night primetime show which has aired annually on free-to-air German broadcaster, ProSieben, since 2004. The first episode of the 2012 edition aired on Germany's ProSieben on Saturday 24 November and continued its high ratings track record, beating the prime time slot average by 40% for total audiences and by 35% for the target 14-49 demographic. Its broadcasts regularly attract an audience between three and four million viewers with episodes winning their time slot against tough competition such as Idols and Got Talent on RTL.
In High Diving ("TV total Turmspringen"), celebrities from widely different backgrounds put themselves in peril as they take the plunge into a whole new discipline… diving! Some have made their name in sports arenas, but others are more suited to less athletic competitions, some might even be fighting a fear of heights – or water! The contestants compete in a variety of different dives, including high diving, springboard, and synchronized diving. Before the celebs are able to show their hidden talents in the various jump categories they are given a crash course under the instruction of the German Swimming Association (DSV). An expert judging panel awards points and decides about the candidates' ranking. Performing jumps from the handstand position or a double backwards summersault with twist – the celebrities risk everything to win. Videos from the training periods provide the audience with a glimpse into the celebs' pain, courage and perseverance.
www.banijay.com
Top Related Stories
Click here for the latest broadcast news stories.