Broadcast News
15/10/2012
BFI Head To Deliver PFM Keynote Speech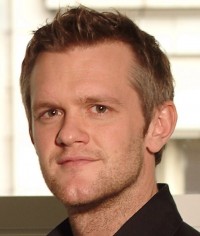 Ben Roberts, Director of the BFI Film Fund, will deliver the keynote address at the Film London Production Finance Market (PFM) on 17 October.
Responsible for the UK's largest public film fund – currently at £18m per year and set to rise to £24m by 2017 – Roberts will share his vision for the future, as well as his extensive knowledge and expertise, gained from over 15 years working across international sales, studio acquisitions, UK distribution and film finance.
Taking place over two days (17-18 October), in association with the 56th BFI London Film Festival, the PFM returns for its sixth edition. The programme will include a Senior Producer Panel, made up of Stephen Woolley (Number 9 Films), David Parfitt (Trademark Films), Peter Watson (Recorded Picture Company/HanWay Films) and Andrea Calderwood (Slate Films), who will analyse the challenges producers face making product aimed at the international market and share views on how the UK can develop stronger international relationships under the new UK funding system.
Adrian Wootton, Chief Executive of Film London and the British Film Commission said: "The PFM offers a very real and successful solution to getting new independent film financed and into production. It is a unique forum for international financiers and producers to do business and forge new cross-territory relationships.
"Year on year we have worked hard to make this event truly international, believing better engagement outside of the UK will only strengthen our domestic industry; contributing to supporting growth of UK companies, allowing them to develop their content, expand their operations and create jobs.
"I am delighted Ben Roberts will be our keynote speaker this year. Coupled with some of our most successful homegrown film-makers on the producer panel, the PFM will give attendees a taste of how the UK industry will effectively engage with the international industry in the future. I would also like to thank our funders, the BFI, the Mayor of London, MEDIA and UK Trade & Investment."
Running since 2007, the PFM is dedicated to connecting producers and financiers to encourage new film financing relationships by facilitating 800 face to face meetings and a further 300 financier-to-financier meetings over the two days. Previous delegates have paid overwhelming testimony to the strategic role the market now plays in the annual film calendar, with 90% of Financiers returning in 2012. The PFM delivers results which range from starting new business relationships, to attaching international sales companies, and securing various forms of investments in companies and film projects.
This year the PFM has attracted over 52 producers presenting projects with €305m of production value, up from €245m in 2011. Of the 54 financiers attending, there are leading private equity firms, tax-structured financiers, sale companies, distributors and public and broadcaster representatives. There are also a number of new territories – including Turkey, Finland and the Czech Republic – coming to the PFM this year.
Leading companies attending the PFM include Fox International Productions, Endgame Entertainment, Universal Pictures International, Entertainment One and Lionsgate. From Europe Film Distribution (France), Rai Cinema (Italy), Dynamo Capital (Spain), Backup Media Group (Belgium), Bavaria Pictures GmbH (Germany) and TF1 Droits Audiovisuels (France) are among the financiers. Just some of the companies presenting projects at this year's event are: Lumière & Co., Morena Films, MRP Matila Röhr Productions, SamFilm GmbH, Corona Pictures, Forthcoming Films and Rockabill Media.
Year on year the PFM builds on the Market's existing international links, and earlier this year announced new partnerships Nordic Co-Production Market at the Norwegian International Film Festival in Haugesund and PRIMEXCHANGE's Film Bazaar in Goa. Other existing international partnerships are with the Melbourne International Film Festival's 37ºSouth Market, Ile de France Film Commission and the Toronto International Film Festival's International Financing Forum (IFF).
The Film London Production Finance Market 2012 is supported by the BFI, the Mayor of London, MEDIA and UK Trade & Investment.

www.britishfilmcommission.org.uk
Top Related Stories
Click here for the latest broadcast news stories.