Broadcast News
08/08/2012
White Mark Designs Two Preview Theatres For NBC Universal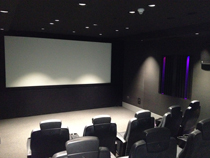 NBC Universal's move into the award-winning Central Saint Giles office development allowed the company to bring all of its technical facilities together under one roof. Working in conjunction with architects T P Bennett and cinema optics consultant Lawrence Claydon, White Mark designed a 64-seat, double height screening room on the ground floor of the building and a smaller 18-seat theatre on the first floor. Both theatres are now being used for executive and private screenings.
David Hodgkinson, Senior Vice President, Theatrical Operations at NBC Universal, says: "We chose White Mark for this project on the basis of the company's excellent worldwide reputation for designing sonically accurate film dubbing theatres and post production facilities, and we're delighted with the end result."
David Bell, Managing Director of White Mark, says: "This was a complex project because of the lightweight construction of the building and the fact that we were working within very tight space constraints. Also, as a mixed use building, it was imperative that both theatres had excellent acoustic isolation. To achieve satisfactory weight distribution, we built each theatre within its own steel isolation shell and placed these on top of each other to effectively create a theatre stack. As sonic excellence was an important part of our design brief, we paid careful attention to the room acoustics to make sure these theatres were as accurate as the professional film dubbing rooms in which soundtracks are mixed."
Having completed the preview theatres, White Mark was then asked to design a range of other technical facilities including audio and video editing and post production suites, quality control suites and library and archive facilities.
"This project took 18 months to complete and involved high level collaboration with T P Bennett," David Bell adds. "There was a fantastic spirit of cooperation between our team, the main architect Shane Kelly and interior designer Tajal Rutherford-Bhatt. Between us, we overcame a number of practical issues to create two stunning preview theatres and an impressive range of technical facilities that are exceptionally high-end."
www.dpamicrophones.com
Top Related Stories
Click here for the latest broadcast news stories.