Broadcast News
12/06/2012
Blackadder Named Best of British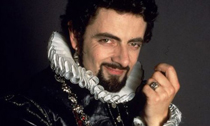 The timeless British sitcom Blackadder has been named Best British TV Series - according to a poll of TV fanatics.
To embrace the patriotic Diamond Jubilee feeling LOVEFiLM asked over 13,500 people to cast their vote for the very best British television series of all time.
Despite being considered a nation of stiff upper lips, the results go to show that we Brits have a clear preference for comedy (the darker the better), with Richard Curtis and Ben Elton's Blackadder taking first place.
The historically-inspired series took the top TV spot in a poll of the 100 'Best of British' TV series and films.
Blackadder edged ahead of another quintessentially British creation, Fawlty Towers, which shouted and stumbled its way into second place in the list (probably smashing a few plates along the way).
The unconventional clergy comedy Father Ted, took third place in the TV stakes, followed by Peckham's finest wheeler dealer duo, Delboy and Rodney, in Only Fools and Horses, which swindled its way into an impressive fourth place in the chart.
The long-running Dr Who series time-travelled into the fifth spot. The enduring sci-fi favourite has been around almost as long as Her Majesty, celebrating its fiftieth anniversary next year after seven hugely popular seasons.
Another British drama favourite, Sherlock, solved the mystery of sixth place, closely followed by the topical and quick-witted panel show, Have I Got News for You.
Cult classic Red Dwarf beamed its way into eight spot, ahead of the crude (but endearing) teenage comedy The Inbetweeners, which cleaned up its act to take a very respectable ninth place.
The internationally popular boys' toys programme, Top Gear raced into tenth position, rounding off the top ten in style.
The top ten British TV series are:
1. Blackadder
2. Fawlty Towers
3. Father Ted
4. Only Fools and Horses
5. Dr Who
6. Sherlock
7. Have I Got News For You
8. Red Dwarf
9. The Inbetweeners
10. Top Gear
Helen Cowley, Editor of LOVEFiLM, commented: "Like our monarch, British TV classics such as Blackadder and Fawlty Towers clearly have the ability to stand the test of time. Whilst the results reflect the very British dry sense of humour, with comedy featuring very heavily in the top ten, it's also great to see some quality British drama making an appearance."
www.lovefilm.com
(GK)
Top Related Stories
Click here for the latest broadcast news stories.