Broadcast News
02/05/2012
DPA Mics Provide Versatility For Penang World Music Festival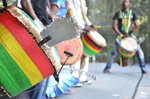 Malaysian DPA dealer AV United has supplied a number of mics to two companies staging the Penang World Music Festival 2012, Kinakoworx Productions and Echo Sound.
The annual event, hosted by the Penang State Tourism Development and Culture Office, was held at Penang's Botanic Gardens. It featured 18 bands from as far away as Colombia and Mongolia as well as from neighbouring Indonesia, South Korea and the Philippines.
The DPAs – 10 DPA d:vote™ 4099D clip mics for drums and two 4099V clip mics for violins – were specified by the festival's technical director Niall Macaulay for their ability to be deployed across a variety of musical instruments thanks to their mounting accessories for piano, guitar and bass, as well as drum and violin.
"This was my second time working with DPA 4099s," said the festival's monitor engineer, Desmond Lee. "I did a jazz festival last November using a 4099 on grand piano, played by Cuban pianist, Gonzalo Rubalcaba, and was stunned by the sound quality it produced. It sounded natural, with great gain before feedback, which is a big advantage for me on monitors. It can also handle high SPLs very well. The best thing is the microphone can produce natural low ends but without creating problems such as distortion. The flexible adapters and accessories are a great add-on too.
"The sound quality of the DPA 4099 is just hard to beat, while its small size gives it a low profile and easy deployment, especially on violins."
Among the bands and instruments to be miked with the DPA 4099s during the festival were Malaysia's Aseana Percussion Unit (Chinese fiddle and alto sax), Belgium's Griff Trio (bagpipes), Africa's Guinee Percussion (djembes and traditional African kora), Maite Hontele from Holland and Columbia (trumpet), Vietnam's Phong Nguyen Ensemble (traditional bamboo instrument) and Grace Nono and Bob Aves Group from the Philippines (bamboo percussion).
www.dpamicrophones.com

(GK)
Top Related Stories
Click here for the latest broadcast news stories.