Broadcast News
22/10/2010
The Future for Audio – Aspen Media Technology Days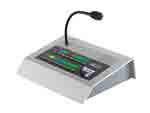 UK distributor Aspen Media is hosting two Technology Days in November highlighting the future for audio with the latest developments from three major audio suppliers, RTW, Delec and Jünger Audio.
The Technology Days are being held at the Ealing Golf Club in Greenford on the morning of Tuesday 2nd November and there are morning and afternoon sessions at RIBA, 66 Portland Place, London W1 on Wednesday 3rd November.
Each of the companies taking part has an important new product to discuss; RTW is bringing the TouchMonitor, which some are saying is an exciting new concept in audio metering and long overdue, a modular design with a broad choice of I/O, allowing the customer to only buy the measurement tools he needs, adding more tools via software modules as and when required.
The Delec Oratis intercom system being demonstrated at the events is the system being installed into Phase Two of the BBC Broadcasting House W1 Project. This system incorporates many new features including a contemporary range of panels and has the ability to grow from 8 ports to over 4,000 while maintaining groundbreaking resilience Jünger Audio's contribution is the T*AP television audio processor. The T*AP manages loudness with Jünger's "LEVEL MAGIC" algorithm and in addition includes its latest advance the "Spectral Signature", which analyses the spectral balance of one programme to reproduce it in another, a feature that will be beneficial in a host of applications.
Aspen Media's Business Development Manager, Sue Hurd explained: "The innovations from these companies are very impressive, we know they are set to make an impact in the broadcast and production audio world and we're delighted to offer the chance to show these new products before they've even hit the market. An important part of these events is listening to the comments and thoughts of the participants as all of the companies taking part actively seek customer feedback."
For further information Contact Sue Hurd on Tel: 01296 681313 or Visit:
www.aspen-media.com
or Email:
office@aspen-media.com
Top Related Stories
Click here for the latest broadcast news stories.