Broadcast News
28/07/2010
Phabrix Scores A Goal!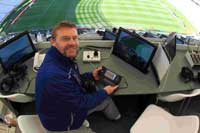 Even though England did not bring home the trophy from the 2010 FIFA World Cup,
a British based company scored with television broadcast engineers and technicians at Cape Town Stadium.

Australian Freelance Engineer John Stankovich employed a Phabrix SxE hand held test generator/analyser to help the team of engineers at the Cape Town Stadium test a large number of digital signal paths throughout the stadium and test various feeds going to and from MRLs (Media Rights Licensees) OB vans parked in the broadcast compound.
Gearhouse TOC Guarantee Engineer Michael Leckie used the Phabrix SxE on many occasions to generate and analyse signals being distributed throughout the stadium as well as analysing signals coming from the MRLs and commentary tribunes.
Michael said that the Phabrix unit saved him many hours of work, commenting: "On a Broadcast engineering level the recent Football World Cup in South Africa is the top of the tree. Pushing the boundaries of television broadcasting requires the best personnel and the best equipment. In this light the Phabrix SxE more than holds its own.
"Having used most handheld signal generators and monitors over the years at all kinds of television events the Phabrix SxE stands head and shoulders above the rest. It outweighs, outlasts and most importantly outperforms any of its competitors and its portability and ease of use make it an outstanding piece of test equipment.
"Here at the Green Point Stadium in Cape Town the Phabrix SxE has been used for monitoring, generating and evaluating signals in situations that otherwise wouldn't have been possible - from the Commentary Tribunes to the Stadium Control Room and CIR to CCR - it's a must have piece of equipment."
(BMcN/KMcA)
Top Related Stories
Click here for the latest broadcast news stories.