Broadcast News
13/05/2010
Giggle Group Rush To Casualty's Aid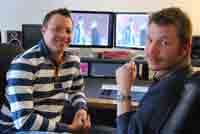 When technical whizzkids at Gloucester-based Giggle Group broadcast and animation production company (pictured) said they can clear up a heavy snowfall with a wave of their 'magic wand' - some people think they're 'having a laugh'.
But that is exactly what the producers of top BBC TV drama Casualty asked them to do when heavy snow in the middle of filming a recent episode gave them a serious continuity headache.
Using the very latest visual effects techniques, Giggle managed to digitally erase the background snowfall from the film allowing the production team to meet their tight deadline.
Giggle Creative Director Steve Garratt said: "Weekly shows like Casualty are shot on very tight deadlines and with the recent incidence of heavy snow across the country they simply couldn't hang around waiting for the thaw.
"At the same time, it would look pretty stupid if the actors were in the dry one minute and in the next shot be crunching through several inches of the crispy white stuff.
"Our highly skilled team of VFX (Visual Special Effects) artists worked through the night and were able to completely erase the snow within the tight deadlines.
"This is just one of the post production services we offer to film companies. We also do our own film productions for commercial clients and specialise in visual effects and animations, often working for video production companies providing special effects, animation and finishing services to create a really polished job."
For further information visit:
www.thegigglegroup.co.uk
(BMcN/CD)
Top Related Stories
Click here for the latest broadcast news stories.