Broadcast News
28/04/2010
Wales Kept In Glastonbury 'Picture'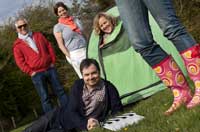 A collaboration between higher education and the film industry in Wales will ensure that Welsh filmmakers have their share of the spotlight at the 2010 Glastonbury Festival, running 23-27 June 2010.
Skillset Screen Academy Wales, It's My Shout and BAFTA Cymru have formed a partnership to support the Glastonbury Village Screen Project, a unique showcase of the UK's best new creative talent held during the five-day music festival.
Led by the London 2012 Cultural Olympiad and the BBC, the Village Screen Project started life in 2009, where for the first time Glastonbury festival-goers were able to watch short films, festival archive footage and gaming sessions on two giant digital screens. The Welsh film partnership has pledged its support of the 2010 Village Screens Project, and in return will have the opportunity to provide a selection of its best live action and animated films to be screened to the Glastonbury audience.
Funding from the Film Agency for Wales has enabled the partnership to make a strong financial contribution to the Village Screen Project, allowing Wales to take its place besides other national and national and regional screen agencies and creative programmers.
Screen Academy Wales will manage the project, with contribution and support from It's My Shout and BAFTA Cymru. Together, the three organisations plan to deliver a diverse and thought-provoking programme of films from Welsh students, graduates and professional filmmakers, highlighting the standard of film education, training and filmmaking in Wales to the Festival's eclectic, international audience.
"We are hugely excited to be the sole representatives of Welsh film at Glastonbury 2010", said Screen Academy Wales Project Manager, Hannah Raybould. "As a partnership, Screen Academy Wales, It's My Shout and BAFTA Cymru represents each stage of filmmaking – from higher education to graduate development to professional filmmaking in Wales.
"Thanks to funding from the Film Agency for Wales, our partnership is able to support a nationally-recognised project that champions filmmaking in all its forms to a diverse audience, something that we are passionate about, but most importantly, we can ensure a spotlight on filmmaking talent in Wales. The timing fits in well with the culmination of a year of promoting our graduate filmmakers at international events like Annecy and Edinburgh Film Festival and the launch of our 2007-9 Best of Graduation Films showcase."
For more information visit:
www.screenacademywales.org
(BMcN/BMCC)
Top Related Stories
Click here for the latest broadcast news stories.