Broadcast News
17/12/2009
Multiple Wins For DK-Technologies At Seoul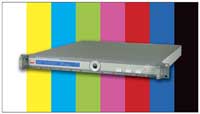 DK-Technologies has announced that South Korea's Seoul Broadcasting System (SBS) has purchased seven PT5300 HD-SD VariTime Sync Generators and three PT5211 VariTime Change Over Units.
The sale was made in early November by the company's local distributor, PI International.
The units were chosen by SBS, one of four major broadcasters in the country, following a competitive tender and are split between two new HD OB vans and one new HD-capable studio.
Il Sik Ro of PI International commented: "In Korea, analogue broadcasting will cease in 2012. Many broadcasters are therefore preparing to move to digital HD before switchover and, as a result, we think there will be a high demand for products such as the PT5300 and PT5211 over the next two years."
DK's PT5300 is a modular, multi-standard HD and SD gen-lockable sync generator with front panel and remote control. It supports 21 HD formats in addition to SD-SDI (525/625), standard B-Burst PAL and NTSC.
The PT5211 modular change-over unit reliably switches between SPG's. The unit accepts both analogue and digital video signals and AES3 and change-over operation can be either manual or in auto-sense mode.
Further information is available at:
www.dk-technologies.com
.
(KMcA/BMcC)
Top Related Stories
Click here for the latest broadcast news stories.