Broadcast News
23/11/2009
Motorcyclist Makes Beeline For 3D Polecam Man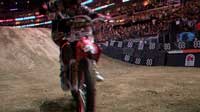 One of the world's most successful Polecam operators has spoken out about the dramatic moment when he came face to face with a stunt motorcyclist.
John Gillan of JGBroadcast has owned and operated two Polecam rigs for over ten years but has never came so close to the action. He was shooting for X Games 3D: The Movie for ESPN when stunt motorcyclist Todd Potter veered off course.
"Todd is internationally famous for his death-defying mid-air loops," Gillan comments. "We were positioned with a Polecam 3D head and support rig at the far end of a very steep take-off ramp. The landing strip was what you expect at the base of a ski slope only this guy was motor-powered and there was no snow to soften the landing. It all looked great as Potter performed a routine twisted swan dive before landing and steering sideways towards the camera. Only he didn't straighten up again". Both the bike and rider came through the crash barrier destroying the Polecam head. Fortunately for John, the high-impact collision ended with a safe outcome.
Due to the manoeuvrability of the Polecam, no one was hurt. Polecam founder and Managing Director Steffan Hewitt added; "The Polecam rig's not only deliver advantages in terms of production versatility, they can also save lives. The impact hit the 3D head full on, displacing the cameras and breaking both connecting cables. These cables and their connectors were so strong that they could support the full weight of an adult male. Many cameramen put their personal safety at risk to obtain highly dramatic images. 3D production is even more demanding in this respect."
JGBroadcast's inventory for the project consisted of two Iconix HD-RH1F cameras mounted on a Polecam jib with the 3D head pan and tilt unit plus two mounting plates from Creat3. Both Iconix cameras were fitted with C-mount HD lenses.
"The Creat3 plates allowed the cameras to be adjusted for pitch, tilt and convergence," John remarked. "Once these were set, I had to be very careful not to become a collision option...until it happened. The footage was recorded on two synchronised hard disk recorders. An important detail we found about shooting in 3D is that the cameras should not be moved as close to the subject as is normal for 2D. Also it was very important not to let any part of the subject leave the top of frame as that looks strange in 3D. Direct contact with Todd Potter's bike was not part of the script!"
The X Games is an annual sports event, hosted and shown by ESPN network controlled and arranged by ESPN which focuses on extreme action sports. Participants compete to win bronze, silver and gold medals. The event often features new tricks such as Travis Pastrana's double backflip in freestyle motocross.
A video of the complete sequence, including the actual collision, can be seen at:
www.youtube.com/watch?v=-4XD9WFR-oY
(BMcN/BMcc)
Top Related Stories
Click here for the latest broadcast news stories.