Editing - Mobile Companies
In Gloucestershire


BTFS has become a recognisable and established brand in the television and film industry for the past 30 years. All our vehicles have been built to the highest standard as...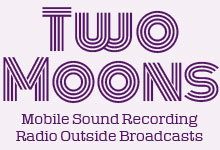 Two Moons are specialists in mobile recording and outside broadcasts for radio. Clients include BBC Radio, BBC Regions, Somethin' Else Productions, GCAP Media, EMAP and MTV....