Production Companies - Charity Videos News
Using Video To Build Your Brand
So, your organisation is exceptional, with great products and customer service but does your marketing reflect your true value, asks Minamonfilm.
Production Companies - Charity Videos Companies
In Cornwall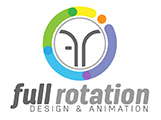 Full Rotation is a small collaborative design & animation studio offering a wide range of engaging 2D or 3D Animation & Motion Design to suit any project. From Broadcast, TV...