DVD Production Company Sponsors

@Voytek has three edit suites, film crews, duplication, multi media capability, graphics design and production based in house in our central London location.
DVD Production Company Companies
In Cheshire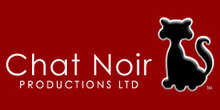 Chat Noir is a one-stop video production company, providing Creative Video Solutions to clients around the UK. We produce: Corporate VideosPromotional FilmsTraining /...

Verge Media
8 Eryngo Street, Stockport
Tel : 07922 152112
Verge Media is a production company offering a range of production services which include design, motion image production, online services and much more. Working with a wide...