Outside Broadcasting Sponsors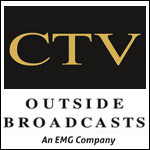 Outside Broadcasting
HD Outside Broadcasting
High Definition Outside Broadcasting
Leading Outside Broadcasting fleet UK and Europe
Contact us 020 8453 8989
Neon Broadcast Services provide location television facilities to television production companies and broadcasters, both terrestrial and satellite, throughout the UK and overseas. We offer a top level of freelance television professionals.
SIS LIVE can cover any event quickly and completely. Our approach to Outside Broadcast means we can offer you an unrivalled service. Specialist cameras, customised production units, mobile editing suites, HD transmission – when you need it, the largest fleet in Europe will be ready.
Outside Broadcasting Companies
In Essex


IN5 Broadcast
Ministry of Defence, Shoeburyness
Tel : 0800 334 5680
In5 Broadcast Facilities has been established for over 10 years, supplying broadcast and industrial television equipment to the South East & central London. We have built up...


Links Broadcast is the UK's leading provider of satellite broadcast and portable production facilities. We operate an extensive fleet across the UK, including 4K/UHD & HD...