Audio - Post Production Sponsors

Bleach is your complete audio post-production solution.
Recording
Mixing
Music Supervision
Sound Design
Voice Over
Location Recording
Post Production
Editing
Mastering
Remixing

Audio Post Production London
Post Production Sound
Sound Mixing
Foley Facility
ADR
Sound Design & Editing
Voiceover Studio
The Audio Suite provides creative Sound Design, editing and mixing, Commentary-to-Picture, ADR, Voice Over, ISDN and publishes podcasts to iTunes; and now wherever you are, our Virtual Dubbing Theatre is there, too – access all our services via the internet.
Audio - Post Production Companies
In Nottinghamshire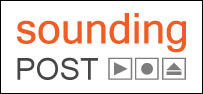 Sounding Post
Mayflower Farm, Codford Street, Wiltshire
Tel : 01985 851122
Sounding Post provide commercial music production for all areas of the music industry along side audio-post solutions for TV, CORPORATE FILM, RADIO & NEW MEDIA. Based out of...