Voice-Over - Facilities News
Voice-Over - Facilities Sponsors

Voice Over Soho
Specialist Voice Recording Facility
Most Competitive Rates in Soho
Top Quality Studio and Equipment
Clients Inc : EA Games, Playstation, Diesel

Facilities include:
Acoustically designed digital recording facilities.
Seating in studio for clients.
Air-conditioning.
Colour controlled fibre-optic lighting.
Wireless Internet access.
Voice-Over - Facilities Companies
In Berkshire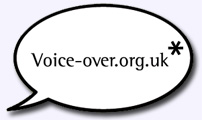 Based in my own high quality studio in the UK, maybe working with you through our phone patch, or of course at your studio, I can deliver your scripts back, fast and in the...