KUDOS is one of the UK's leading corporate event management and theming service providers. We specialise in all sorts of corporate events from Christmas parties, charity fundraisers, entertaining new investors, maybe a re-branding party or just a team morale event.
Video Walls Companies
In Berkshire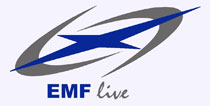 EMF Live
12 Hallmark Trading Centre, Middlesex
Tel : 020 8003 3344
EMF is a worldwide Special Effects and Technical Services Company supplying a turnkey service from large format high power projection to AV, Lighting, Flame & Fire Effects, &...


We are major distributors of broadcast and professional video equipment. Services available: video/broadcast equipment, Sony, JVC, Panasonic, Hitachi, For-A and Leitch. ...