Animation - Effects Sponsors

Stunning animation and VFX based in Cornwall.
Get in touch and start your journey today.
0117 318 0542
info@engine-house.co.uk
@EngineHouseVFX
Animation - Effects Companies
In Kent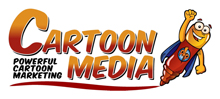 At Cartoon Media, we specialise in creating quality Whiteboard Animation videos for online businesses that we call 'Power Toons'. Our customers find that they are much more...

...