Animation - Effects Sponsors

Stunning animation and VFX based in Cornwall.
Get in touch and start your journey today.
0117 318 0542
info@engine-house.co.uk
@EngineHouseVFX
Animation - Effects Companies
In Glamorgan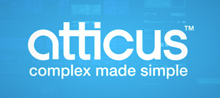 Atticus Digital is a BAFTA winning creative agency, expert in virtual reality, 360° video, 3D animation, video production, web and app development. We distil complicated...


At Illustration and Lettering we offer a full range of sign services ranging from traditional hand painted lettering, computer cut graphics, sign manufacture and installation...