SFX - Prosthetics Sponsors

Professional, cost and time efficient SFX Prosthetics manufacture services, using a combination of state of the art machinery and traditional techniques for the Film and TV Industry.
SFX - Prosthetics Companies
In Hertfordshire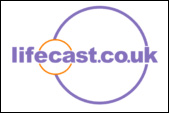 John Schoonraad has been lifecasting for film, television and the arts for some twenty years. 'I am the Worlds best and most experienced lifecaster' says John, he backs...


Plowman Craven provide technical expertise in data capture for film and video production. The moving image has enthralled audiences for over a hundred years; we can take...