Specialists in widescreen & multi-screen presentation solutions. High brightness HD Projectors, Multi-screen servers, Realtime Graphics, Spyder controllers.
Projection Companies
In Essex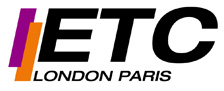 ETC UK Ltd
Unit 4a Barking Business Centre, Barking UK
Tel : 020 8477 4490
E/T/C are specialists in high power projection both in slide and video format and provide support with image creation and programming. With the PIGI and Onlyview systems...