Music - Libraries Sponsors

We've been successfully supplying bespoke and library music for TV, film, corporate videos, websites and advertising campaigns since 1996.
Music - Libraries Companies
In Middlesex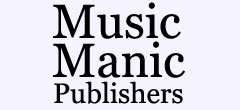 Music Manic Publishers This company has been formed to supply the current T.V. shows being made, mainly in America, plus some independent shows in the U.K. We have contact...

Located in Reading, Soundvault is a company which provides users with a music trading platform. The service is designed to be uses within the music production industry and...