Lighting Cameraman Sponsors
Lighting - cameraman - Midlands - UK
Camera crew - Worcestershire - England - UK
Broadcast - cameraman - Birmingham - UK
25 yrs exp BBC ITV C4 SC4
call Paul on (0)1562777186 or Mobile (0)7836523754

Experienced Broadcast Lighting cameraman
Own RED / P2 varicam / HD & XD Cam shooting kits
Jimmy jib and Steadicam owner operator
Crews and equipment hire
London and Bristol bases

CAMERA CREW HIRE. 4K & HD:
Own Sony FS-7 XDCAM Full Camera kit
Polecam 4K/HD (Camera Crane) Owner Operator
Broadcast Crewing for Northern England/Scotland
Latest DJI Ronin Camera stabiliser. 4K or HD
Call Tom Paterson on 07973 223302
Lighting Cameraman Companies
In Middlesex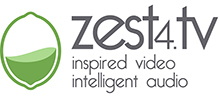 Zest4.TV supplies single camera, multi-camera, flyaway and outside broadcast facilities to audio visual, live streaming and broadcast production companies. We have cameras,...

VGM Studios are specialists in the field dedicated to your wedding day. Covering your special day is seen as a privilege. We are passionate about what we do and believe this...