Broadcast Equipment Installation Companies
In Surrey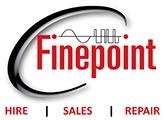 Finepoint Broadcast has been supplying broadcasters with a wide range of production and OB equipment for over 35 years. This has always been complimented with a unique blend...


The Projects Department Ltd is an independent specialist for television studio lighting. We offer consultancy, design, equipment supply such as controls, dimmers, luminaries...