Systems Integrator Sponsors

Consultancy
Project Management
Design & Engineering
Installation
Commissioning
Technical Training
After Sales Support

Wire Broadcast Ltd provides high-quality technical installations to the television and media world. As well as working with some of the most successful post-production studios in London's Soho, Wire has undertaken a number of projects outside the UK for international businesses.
Systems Integrator Companies
In Middlesex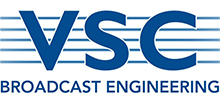 VSC Design Ltd has been planning, designing, installing and servicing the requirements of a rapidly changing broadcasting and media industry, delivering the highest...