Produce Motion graphics for title sequences, programming content, commercials, and re-brands. Splice offers clients a relaxed yet professional service operating 15 hrs a day 7 days a week.
Motion Graphics Companies
In Berkshire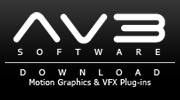 Regus
Oxford House 12-20 Oxford Street, Newbury
Tel : 01635 760 200
Motion graphics, graphics & visual effects software and plug-ins for Adobe After Effects, Apple Final Cut Pro, Avid, Autodesk & more. Buy creative software & plug-in...