Company:
Sat-Tech Communications
Telephone:
+44 (0) 20 8670 0089
Contact:
Gary Wilson (Director)
Address
157 Gibsons Hill,
London,
SW16 3ES,
England

About Sat-Tech Communications
Sat-Tech Communications Ltd was formed in 1990.
The company supplies, installs & commissions satellite equipment for the Business, Broadcast & Residential environment.
As the company is an independent organisation with no affiliation to any specific manufacturer or supplier, system design, specification/recommendation of equipment is based on appropriate solutions to customer requirements.
BROADCAST SERVICES
Delivering satellite technology
Sat Tech offers a wide range of services & products for the Broadcast industry, ranging from the installation of 90cm – 3.7m receive only satellite antennas systems, to 2.4m – 9.3m Earth Station Antennas (ESA) uplink systems.
The company supplies Broadcast MPEG Satellite Receivers & IRDs, High Stability LNB's and designs & supplies L-Band distribution, splitting & monitoring networks, system wiring and rack builds for broadcast, monitoring and control.
Our services include temporary installation of satellite systems for Live News, Sports or Entertainment Events, with monitoring and backup systems.
BUSINESS / CORPORATE
Digital TV in the WORK PLACE
With the increasing demand for instant News, Financial Information, Live Sports, Music & General Entertainment, Businesses & Corporate Institutions need to stay in touch with world events as they happen.
Sat Tech has a wide range of packages for the Business sector. We design, supply & integrate TV & AV Distribution Systems for large or small office complexes. TV outlets can be HD Plasma / LCD screens, Projectors, or Desktop TVs and can be located in Boardrooms, Meeting rooms, Auditoriums, Open plan offices, Gyms, Cafés and Reception areas, and spread across any number of floors.
TV Distribution networks are delivered via RF, IF, CAT 5/6 (UTP), AV, Fibre Optics, IPTV or a combination of any of the distribution methods.
The Headend, (which is normally located in a comms room) and distribution networks, are designed to a high specification and built to a professional standard with quality components. Headend systems can be designed with full software control and monitoring.
Sat Tech offer a Turnkey service, supplying & installing:
System Design & Planning
Satellite Antenna & Aerials
TV Distribution Equipment
Rack Build
Plasma & LCD screens
Projectors
Testing & Commissioning
Our services also include temporary installation of satellite systems for Business TV or Live Events.
Company News
27/05/2016
HOME CINEMA & AV SYSTEMS
---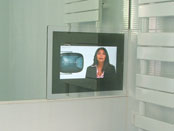 HOME CINEMA & AV SYSTEMS
An Audio Visual Experience.
Sat Tech specialise in the Design, Supply and Installation of Audio Visual Systems for the Home, as well as Offices, Leisure and Retail Developments.
Our Audio Visual Systems and Designs, seamlessly integrate the latest technologies for today's lifestyle. Our services include:
HOME CINEMA
MULTI-ROOM AV
HD-TV
HOME AUTOMATION
MUSIC SERVERS
MULTIMEDIA SOLUTIONS
We work closely with Architects, Developers, Interior Designers and direct with Clients to find effective solutions for each individual AudioVisual requirement.
HOME CINEMA & AV
Sat Tech offers a wide range of services, including installation of LCD & Plasma Screens, Multi-Room Audio Speaker Systems, to creating an HD Home Cinema with projectors and screens coming out of ceilings or bespoke furniture, complete with Dolby Surround Sound Audio.
SMART HOME
A Smart Home or Networked Home is a system which goes a long way to future proofing a home for all its AV and Communication needs.
Using a combination of Structured Cabling, AV, Coax and Control Cables, together with our wiring techniques and design, we are able to install an infrastructure for Phones, Internet, IPTV and Digital TV Distribution.
Contact Sat Tech with all your Audio Visual requirements
Find Sat-Tech Communications in
Location of Sat-Tech Communications
Outside Broadcast & Satellite Services Sponsors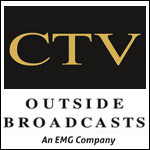 Outside Broadcast & Satellite Services
CTV has developed into one of the largest and well-respected independent OB Companies in Europe
HD OB fleet
Contact us 020 8453 8989

Links Broadcast HD & SD Facilities Include:
SNG Services
Satellite Downlinks
Microwave Links
Vision Mixing & Editing
Video Conferencing
and much more