Telephone:
020 87 46 2121
Address
38-40 Telford Way,
pro-audio rentals UK,
London,
pro audio equipment UK,
W3 7XS,
UK

About FX Rentals Ltd

PRO AUDIO, BROADCAST AND FILM EDITING EQUIPMENT HIRE
Along with an impressive selection of musical instruments, pro audio, broadcast and film equipment which is ready for rental, our Pro Tools department is set up to manage every aspect of digital recording and editing. FX has the widest range of audio equipment available for hire – 24 hours a day, 7 days a week, 365 days a year. And it all comes with full technical support.
FX also provides additional audio facilities. As an approved Digidesign dealer, FX supplies an extremely supportive sales resource for Pro Tools and associated products. With so many past and present recording formats, the FX Copyroom is set-up to copy, transfer, restore and prepare for archiving all analogue and digital audio formats.
Ring 020 8746 2121 for more information.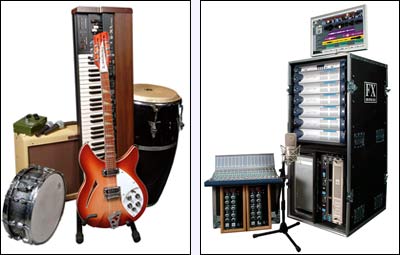 A Very Brief History of FX Rentals
Founded in 1992, initially hiring only effects processors, London-based FX Rentals has emerged as Europe's leading audio rental company now supplying the recording, post production, film and live industries across the UK and Europe.
Realising that customer satisfaction is a key element to a successful business, quality of service has always been high on FX's agenda. Premises are staffed 24 hours a day, 365 days a year to provide continuous and reliable technical support with a fleet of vehicles that ensure quick and efficient deliveries.
On the phones, friendly, knowledgeable staff are happy to share their expertise, whether dealing with first-time enquiries or long-standing industry clients.
FX Rental's discount structure guarantees that everyone benefits from competitive rates, regardless of the length of rental period.
Regular film and broadcast clients include the BBC, LWT, Shepperton and Pinewood studios, Warner Bros, New Line Cinema and Soho post production facilities. Whilst top studios such as Abbey Road, Metropolis and Air are among FX's long-term recording clients, together with the major and independent record companies, management, producers, engineers and musicians.
Within the very active live market, FX regularly supplies PA systems and musical instruments for parties, corporate events, live music events and artist showcases.
Other FX services include equipment sales as well as the FX Copyroom, an audio format transfer division which has restored and transferred many historic recording projects as well as providing the latest technology including a high-speed file transfer service (FTP).
View items for hire by FX Rentals Ltd here.
Products / Services / Credits
DJ Equipment Hire
Piano Hire
Pro Tools Hire
Pa Systems Hire
Backline Hire
Drum Hire
Microphone Hire
Keyboard Hire
Pro Audio Hire
Twitter Feed

Facebook Feed
Location of FX Rentals Ltd
Sound Equipment - Hire Sponsors

contact +44 (0)208 6918161
State-of-the-art pro-audio equipment
Intelligent and generic stage lighting
AV and video projection
Back-line and musical instruments
Riser decks and light staging,
Trussing, chain hoists and rigging

Theatrical Sound Design & Hire specialising in Sound Design for Musical Theatre. With over 20 years' experience within the Sound industry, our work has been heard in most of the UK's Theatres, in Europe and in the United States.

FX Rentals is set up to manage every aspect of digital recording and editing.
Pro Audio
Instruments
PA
Pro tools equipment and resources for live and recorded sound - 24|7