Company:
PPL -Video Store
Address
1 Upper James Street,
London,
W1F 9DE,
UK

About PPL -Video Store
MUSIC VIDEO AT YOUR FINGERTIPS
PPL Video Store is the online music video service, providing instant access to music video content for broadcasters and production companies, representing an unrivalled catalogue of audiovisual content for broadcast use. PPL's membership includes virtually every record company in the UK and video store provides access to their music videos, this catalogue includes both back catalogue & new releases from Michael Jackson to Pixie Lott.
This one-stop-online-shop, believed to be the first of its kind for broadcasters and production companies makes ordering music videos quicker and easier than ever.
Search the thousands of broadcast quality videos, covering a wide range of music genres.

View videos in their entirety before you order.
Download your chosen files within minutes. Video files are downloadable in standard MPEG-2 50i or 15 mbps.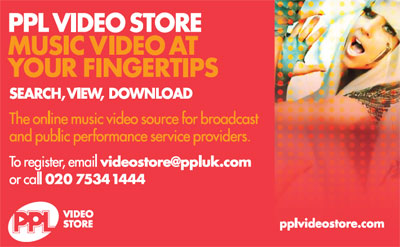 Location of PPL -Video Store
Music - Libraries Sponsors

We've been successfully supplying bespoke and library music for TV, film, corporate videos, websites and advertising campaigns since 1996.