Company:
Stylisticat Trained Cats for Film and Television
Contact:
Kayleigh McIntosh-Lowrie
Address
Scotland,
KY13,
UK

About Stylisticat Trained Cats for Film and Television
We are located on the outskirts of Perth in Scotland, United Kingdom.
Our passion is CATS! ....You can tell right?

Growing up with cats and dogs gave us the love we have for animals that we have today but with a complete admiration for all of the different characteristics that each breed has and how every relationship with each cat we have is totally different from the other. Many people ask the same question - Why do you have a variation of breeds and don't just focus on the one? ..And the answer?

Prior to breeding cats we already had 5 household domestic cats before we had our Son consisting of Maine Coon, Domestic Shorthair and Longhair and an Abysinnian, with our immediate family having various Siamese, Tonkinese and also Abysinnians. We started breeding Savannahs after adoring the breed over its development years. After completely falling head over heels with hybrids from not owning one before, our cattery grew in size over the next year.

We finally obtained African Servals from a fantastic friend in England and another very good friend blessed us with our first Chausie girl. We imported an African Caracal from Europe and have gone on to import various other cats since then to join our family. We are still a small cattery with a bit of variety. Every day we get to spend time with some wonderful breeds and watch kittens characters develop as they age. It is a very special experience. We hope to produce some amazing animals - watch this space!

Focused on producing fantastic type and temperament, Stylisticat have imported lines and hand–picked every cat often visiting the kittens overseas before purchasing to ensure they have a solid breeding programme with excellent results. Kayleigh knows exactly what kind of feline type she likes and wants to work with and without question, lives and breathes for cats. Stylisticat have an extensive health-testing programme in place for HCM, Pk Def and swab/faecal testing to ensure they have 'bomb-proof' kittens. Kittens are well-socialised and have been previously shipped worldwide. Visits for potential kitten owners welcome.

We aim to expand in the next few years from small cats into big cats at our own 'Highland Feline Trust' location supporting conservation of threatened larger species in the wild. We hope to work with Eurasian Lynx, Pumas, Scottish Wildcats and Snow Leopards in the future and be a valuable asset to the breeding programmes throughout the world and are already in talks with key people within the networks of this conservation work. We hope to have a centre which people can visit and learn about the work that can be done to help preserve the natural habitat of these endangered species, along with gaining an understanding on the benefits of captive conservation.

One thing people never anticipate is the amount of costs and time investment involved in ensuring that they are providing a fantastic cattery environment, healthcare, testing, high quality diet etc for the cats and it is something which we always promise to keep fantastic no matter how much financial or time investment it takes us to keep our cats happy and safe.

We have developed several relationships with fellow breeders and have formed friendships to last a lifetime with some. So far, we have had some amazing times, experienced tough times and still strive to do our best for every single 'beautiful little being' we own and breed to produce some of the world's most amazing animals to grace the earth.

Some of our cats may be available for television, modelling and public appearances. Please contact us to discuss your requirements.

​Please contact us directly ONLY if you are a registered member of the Press or appropriate media body.

​Members of the general public are requested to contact us via the contact form on the website only.


Products / Services / Credits
Cats for film
Cats for Television
Trained cats for acting
Trained cats for Commercials
Cats for Fashion Shoots
Trained cats for film & tv productions
Onset trained cats
Company News
01/09/2016
Early Generation Hybrid Cat Management
---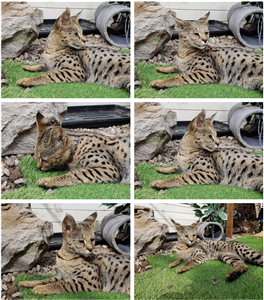 Owning early generation hybrids and wild cats means that you really do need to be responsive to their needs and change things to suit them where possible. Sometimes when a group have been friends through a juvenile period, after becoming Mothers themselves or even approaching adulthood, the hormones can really upset the balance in a cattery environment, even in large enclosures. We always aim to keep the cats occupied through various enrichment experiences and change things up regularly within their enclosures. Sometimes when the cats take a dislike to each other, they can stay in their "mood" for weeks and even months at a time. You, as a responsible owner, must take the sufficient steps to ensure there is a balance at all times.
After time progressed Emira came round, never really enjoying male human company despite the endless nights of playing without eye contact and reaching out to her without force from my Husband. She got on with my female serval so well when she was introduced as a playmate as a kitten. They played great together and even slept beside each other in the indoor sleeping house.
After Emira had kittens, she decided she didn't like the serval anymore. The serval grew bigger and Emira just 'felt different'. We resisted the sale of Emi for so long and tried changing the cats round, but then it left everyone else upset. She gave my serval a hard time and then as the serval grew, she got it back twice as hard. "I'll have to rehome her, it's the only option to rework the balance", I said to Gordon. "She just hates this serval and I don't know what else to do". I asked a breeder who owns Emira's sisters at her cattery and she said, "I don't want her. We have enough problems with her sisters!". I thought, well, at least Emira is not causing any problems when she is not with the serval, so that is a bonus!
F1 Savannah cats are notorious, along with servals for imprinting on one (to two at the most) human. They do this from a young age, within the first few months of their life and that is why getting an F1 no later than 12 weeks is advisable.
I received loads of e-mails every day about her. People saw it as a bargain. It was ALL about money, no-one had a care about the difficulties in mating F1's. How can I even consider discussing the TYPE of home on offer when we can't even get past the financial 'interest'. No-one was really ever going to understand the difference of an F1's temperament when they have kittens and how to suit/ adjust things to suit an F1 queen which has kittens, when they were more interested in the financial outcome of such kittens. And what happened when they realised how hard it can be to produce F2 kittens or to have live F2 kittens even AFTER a mating has been successful? The thing I most interested in for my F1 was TRUST.
We sat on the bench one evening, as we do, while I have a cup of tea and a chat with the early generation Savannah girls. They know all my stories and secrets. They chat back to me. Emi was reaching up and pawing my face so I would lower it in order for her to reach and give me a head bop. "Ma-ma", she meowed and I just burst into tears.
Revelation moment and total re-evaluation of the setup. We pulled together and brain-stormed, drew up plans, put ideas across to each other.
Emira has a new fantastic enclosure pictured above where she now lives happily with some of our other F1's, her best friends. The plans were drawn up, the enclosures were all re-worked and within 2 weeks of re-working it all, the equilibrium that we once had, was restored. We now have other enclosures drawn up to ensure that we can move any more girls if required. They are our babies and I couldn't ever imagine them going anywhere else.
What do you think of your new enclosure Emi? She just looked at me, just like in this picture below. "I am home", she said with her eyes, then smiled.
01/09/2016
Serval Kittens Due
---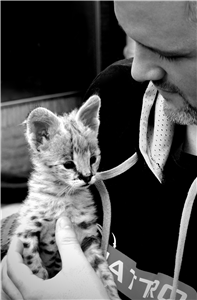 We have serval kittens due at the end of October. They will be left with mum for the first few weeks before being handled by ourselves.
03/05/2016
Birth of an F2 Savannah Kitten
---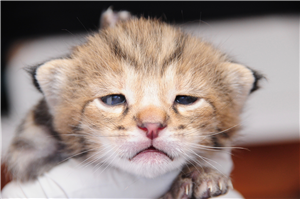 Congratulations to the wonderful Emira on the birth of her baby boy. He is a big healthy bouncing boy, golden in colour with jet black spots. The spots from this kitten will stay as defined as he gets older as there is no rosetting in this mating. This boy also has a lovely clear face with really interesting features. I can't wait to watch him grow. Welcome to the world wee man.
Find Stylisticat Trained Cats for Film and Television in
Location of Stylisticat Trained Cats for Film and Television

Acting Animals – happy animals of all types, trained using positive reinforcement, to help you achieve your objectives. A truly professional service.

Trevor Smith has over 30 years experience in the film industry providing animals for some of the biggest film and tv productions, Animal Works has a solid reputation and is at the forefront of the animal training and Animal wrangling industry in the UK.

07956 564715

Want the very best animals with skilful, knowledgeable and experienced handlers?

With many years of practical experience and a wide range of animals trained by positive reinforcement, we know exactly how to ensure you get the shots and behaviour you want, when you want it.