Company:
Pulse8Broadcast -
Address
Unit 12 Kenneth Way,
Wilstead Industrial Park,
Bedford,
MK45 3PD

About Pulse8Broadcast -
We are Pulse8Broadcast - we provide technically robust and financially appealing outside broadcast (OB) trucks for Light Entertainment and Sports TV productions, together with production facilities for Music Tours, Festivals, Conferences, and Big Screen production.

Our senior team of industry broadcast professionals have over 50 years of TV and OB production experience for national and international broadcasters including BBC, ITV, CH4, Channel 5, Sky Sports, BT Sport and British Eurosport in the UK, while Internationally, we have delivered major live OBs for NBC, ESPN and broadcasters across the Middle East.

Our team are here to deliver you outstanding technical but highly cost effective outside broadcast solutions - so if that's what you need, then you've come to the right place. If you want to save on production budget without sacrificing production standards, we can help.

Our main OB truck (HD02) is a full length, double expanding truck equipped with the latest outside broadcasting equipment and features, and is highly versatile, with up to 30 cameras and 20 VTRs. The full length double expansion means there is so much room inside that your production team will love you. This impressive truck is available for a limited time at dramatically discounted introductory rates, so you get a large powerful outside broadcast truck that can handle any production, for less than the cost of a mid-size unit!

Our broadcast truck is available for productions and events all over the UK and, uniquely, is wired to accommodate both UK and European venues, without the need for clunky connectors.

In addition to HD02, we also have a range of portable production units (PPUs) which are an ideal solution for Music Tours, Festivals, Conferences, smaller Sports Events and Big Screen production; where perhaps a 4 to 8 camera configuration is all that is required. Our PPUs can easily be installed into vans for ease of transport and deployment.

Our OB Unit and all our PPUs can come with Mobile Ka Sat facilities and h264, fLV, MPEG 2 and MPEG 4 encoders for live streaming services to any major platform meaning your event can be webcast around the world in a moment too.

To find out more about how our OB trucks or portable production units can meet your every need or for advice on the best solution for your production or event anywhere in the UK, give our dedicated team a call on 01234 743 600.
Products / Services / Credits
Outside Broadcast
Broadcast Kit Hire
Outside Broadcast/Hi Def OB
Outside Broadcast/OB Facilities
Outside Broadcast/OB Vehicles
Outside Broadcast/OB Web Cast
Outside Broadcast/Outside Broadcast & Satellite Services
Outside Broadcast/Outside Broadcasting
Twitter Feed

Facebook Feed
Find Pulse8Broadcast - in
Location of Pulse8Broadcast -
Outside broadcast Sponsors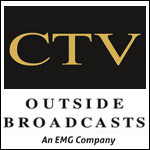 Outside Broadcast London South of England
Outside Broadcasting & Satellite Services
OB Vehicles
Contact us 020 8453 8989

Independent Outside Broadcast Facilities Company in the UK and amongst the largest in Europe. Mobile television OB trucks vans unit providing outside broadcast facilities with recording, live feeds and webcasts in digital and widescreen formats

Links Broadcast is the UK's leading provider of satellite broadcast and portable production facilities. We operate an extensive fleet across the UK, including 4K/UHD & HD uplinks as well as hybrid OB/SNG production facilities.