Company:
Think Allowed Ltd-3D Animation and Video Production
Address
Citibase Nottingham Broadway,
32a Stoney Street,
Nottingham UK,
The Lace Market,
NG1 1LL,
UK

About Think Allowed Ltd-3D Animation and Video Production
WE MAKE VIDEO
We are a creative team focused on the creation of video presentations for our clients. We are particular experienced in the production of material for industrial clients and we draw heavily on our understanding of 3D CAD and 3D Animation to tell their stories in engaging ways.

THINK ALLOWED
We are a dynamic team with bags of experience in a wide range of industries. We thrive on customer satisfaction, and don't rest until our clients are thoroughly delighted with the work we produce. Our collective passion for creating design and technical excellence has produced a very tight knit team of associates that genuinely understands how important communication is - and how brand positioning will impact your short and long term bottom line sales. The team at Think Allowed encompasses a rich mix of industry experience and has the skill set and capability to provide a complete solution. From initial concept to creative production and long term strategy planning, via the use of powerful, original and effective media we will inspire your customers and aid you in achieving your potential. Think Allowed is totally independent and will provide you with unbiased advice on the most suitable options to communicate with your audience.


3D Computer Graphics Services

Animation
Whether it's a surgical procedure, a 360 degree orbit around a product, working parts in motion or a virtual tour of a property development, however simple or complex, we can create what you need with our animation expertise. If animation is to be the major focus of a project we can rapidly produce animatics which are low resolution movies containing simplified objects to show proposed camera movement, rates of movement and animation timings. This can be matched later to the finished high resolution assets for the final sequence.

Matchmoving
"Camera tracking" or "Matchmoving" or "3-D Tracking" is the process of analyzing a video clip or film shot to determine where in 3-D the camera went, what its field of view was, and where parts of the set were. This means we can take real video footage shot with a camera, and put computer generated objects into the scene. This can be very effective for movie special effects, or virtual sets.

Technical Illustration
This can range from cutaways, exploded views, virtual assembly drawings or animation sequences of any device or technology, realistically textured and lit to show your products to best advantage. We have created illustrations for many industries including scientific/medical, engineering, product designers, museums, manufacturers, architects, property developers, interior designers, exhibition designers, interactive games and TV companies.

Twitter Feed

Facebook Feed
Company News
09/02/2016
MADE HERE NOW VIDEO PRODUCTION
---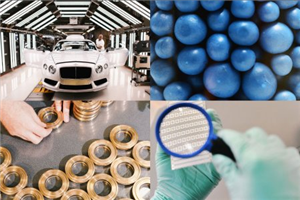 The 'Made Here Now' project is a UK nationwide initiative who's remit is to highlight many of the exciting aspects of UK manufacturing. Phase one of the project was completed in early 2015, and is now entering its second phase which promises to deliver a far richer resource for anyone wishing to get involved with manufacturing as a career choice.
We are very excited to announce that Think Allowed Ltd has been selected as the supplier of video material for the project, ( both 3D Animation and Live Action ) and we are looking forward to getting on with some ery interesting work.
Find Think Allowed Ltd-3D Animation and Video Production in
Location of Think Allowed Ltd-3D Animation and Video Production
Animation - 3D Computer Generated Sponsors

BROADCAST 2D & 3D ANIMATED FILM FOR BUSINESS

From our studio in Devon, close to the beautiful Jurassic coastline we craft both 2D and 3D animated film together with photorealistic illustration media.

Tel: 01404 45922

Kilogramme is a design led animation company based in Manchester. Our work ranges from high end 3D pieces, to classic 2D animation. We have provided adverts, title sequences, series work, interstitials and installations for clients such as: the BBC, Channel 4, ITV and Disney.

Autodesk 3ds Max
Autodesk Maya
Autodesk softimage
AutoCAD
Autodesk Creation Suites