Company:
The Really Delicious Food Company
Address
Glasgow, Scotland,
G5 8RR,
Scotland

About The Really Delicious Food Company
We have amassed invaluable experience in location catering in Scotland
Our highly trained and experienced staff, combined with our fleet of purpose-built location catering trailers and vans, means that, whether the location is a city centre or rural hillside, we serve up high-quality, tasty food whilst maintaining a smooth-running, Green Room-style atmosphere.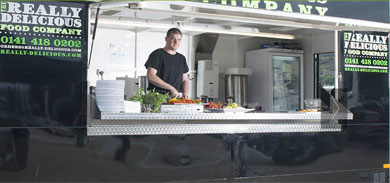 Film/TV Catering in Scotland
With Scotland increasingly providing the backdrop for major TV and film productions, we have rapidly established a top-notch reputation for cast and crew catering, whether it be for a returning TV series, TV advertisement shoots or Indie feature films.
Waterloo Road
When the hugely popular BBC drama series
Waterloo Road
relocated to Greenock in March 2012, we were delighted to be awarded an 18 month contract by Shed Media to cater for the cast and crew of this compelling school drama.
Set either in the former Greenock High School or at various outside locations in and around the area, we rose to the daily challenge of serving a varied and consistently high-standard breakfast and lunch menu for up to 165 adults and 35 children.
Testimonials
We understand that planning the shooting of a film or a television series is stressful enough – and we know that a cast and crew march on their stomachs. At Really Delicious we ensure that you don't have to worry about your crew's welfare, and can get on with other things. There are certainly enough of them!
But hey, don't just take our word for it!
"Good catering on any shoot is vital, it's what some crew come to work for. However, when you are in the middle of nowhere, shooting six day weeks, not a shop in sight and have allergies and dietary requirements left right and centre (veggie, celiac pregnant, nut allergy, etc.), it is vital your catering is good. With Sandy and Tracey in charge and Mark cooking up the food, there wasn't a day that went by when the seasoned crew didn't comment on how great the food served by Really Delicious was. They went above and beyond, and it made all the difference. Thank you."
Karl Liegis, Location Manager Warp Films
"Couldn't have been better feedback from the guys. The catering was brilliant, and Mark & Craig were really great guys to work with. I'm delighted! It was noted that the Pavlova was the winner of the shoot, on par with a famous one made by Poland's best celeb chef apparently ... thanks again, and if you want a testimonial or anything, let me know."
Katie Wright, Location Scotland
"Really Delicious food do exactly what it says on the tin. Their friendly staff looked after our crew fantastically over a five day period at Pollok Country Park, providing warming tasty meals for a cold, wet team, the delivery couldn't have been more smooth and on a five-city series Glasgow certainly won the award for best catering! Would not hesitate to use Really Delicious Food if we visit Scotland again."
Sarah Whitaker, M&C Saatchi
"You've been a revelation."
Angela Murray, La Belle Allay, Dewar's Whisky Advertisement
"Amazing nosh!"
Deva Smith, STV
"Just to say thanks for everything yesterday. The food was excellent and kept everyone very happy!"
Ally Kearney, MTP
"I just wanted to extend my thanks to you and to the guys who organised and helped us yesterday with the buffet. The presentation was really great, as was the food itself, and everyone was really impressed.
We don't have functions like this very often, but should we have anything similar in the future, we will be in touch."
Louise Pryde, Edgen Murray
Company News
19/03/2015
Terribly Tempting Brownies
---
Chocolate-Chip-Cookie-Dough-Brownies-RecipeGirl.com-1
BROWNIE LAYER:
3/4 cup (1 1/2 sticks) unsalted butter
1 1/2 cups bittersweet chocolate chips
1 cup granulated white sugar
1/2 cup packed light brown sugar
4 large eggs
1 teaspoon vanilla extract
1/2 teaspoon salt
1 cup all-purpose flour
COOKIE DOUGH:
3/4 cup (1 1/2 sticks) unsalted butter, room temperature or almost melted
3/4 cup granulated white sugar
3/4 cup packed light brown sugar
1/4 teaspoon salt
2 tablespoons milk or cream
1 1/2 teaspoons vanilla extract or vanilla bean paste
1 cup all-purpose flour
1 cup miniature chocolate chips
additional miniature chocolate chips, if desired (to garnish the top)
Cooking Instructions:
Prepare the brownie layer-
1. Preheat the oven to 350 degrees F. Spray a 9×9-inch pan with nonstick spray, then line with a strip of parchment paper so that it covers the bottom and comes up two sides of the pan. Spray the parchment with nonstick spray too.
2. In a microwave safe bowl, microwave to melt butter and chocolate chips together until all is melted and smooth. Whisk in the sugars, then whisk in the eggs, vanilla and salt. Sift flour into the bowl and stir that in too. Scrape the brownie batter into the prepared pan. Bake for 25 to 30 minutes, or until the brownie layer is cooked through. Place the pan of brownies in the refrigerator to speed up the cooling process.
Prepare the cookie dough layer:
3. In a large bowl, use an electric mixer to combine the butter, sugars and salt until soft and creamy (1 to 2 minutes). 4. Mix in the milk and vanilla. Sprinkle in the flour and mix in until combined. Stir in the 1 cup of chocolate chips. 5. Scoop the cookie dough onto the top of the brownies and spread onto the brownie layer. 6.Wet your hands or spray them with nonstick spray and pat the cookie dough on top in a even layer. Sprinkle additional chocolate chips on top.
RESULT= REALLY DELICIOUS BROWNIES! enjoy x
Find The Really Delicious Food Company in
Location of The Really Delicious Food Company

Antonio's TV and Film Catering we take great pride in providing and serving 5 star catering to the TV, Film, Commercials and Video Industry.

Ian Kluth: 07500276560 / Ian@antoniostvfilmcatering.com
Antony:07771883073 / Ant@antoniostvfilmcatering.com

From a fine dining event, film catering or a small intimate wedding, we are committed to bring our passion and creativity to design and deliver each and every bespoke concept for our clients.

Tel: 0207 635 0963 | Email: info@peepaluk.com