Company:
Skypower Aerial Filming
Address
Skypower Ltd,
85 Great Portland Street,
London,
First Floor,
W1W 7LT,
UK

About Skypower Aerial Filming
At Skypower, we have the most cutting-edge drone and camera technology on hand to capture stunning aerial footage for your TV or film production. Operating Drone hire since 2012, we are one of the UK's leading providers of aerial filming and drone photography utilising our drones, highly experienced and award-winning camera operators and pilots. You can be assured of a highly professional and bespoke service.
Approved by the BBC and ITV, as well as being recommended by a plethora of other big names in the TV and film industry, we're proud of our reputation as multi-level filming experts. Our operators have proven themselves to be outstandingly adept at capturing that perfect precision shot or clear, smooth-running video footage, time and time again.
Special permission to operate up to 10m in congested areas including London, including heavy lift
6K Cinematic drone filming
In-house Alta 8 and Movi Pro Gimbal for Alexa Mini and RED cameras
Live broadcasting
Night flight permission
High Resolution Photography
UK and overseas operation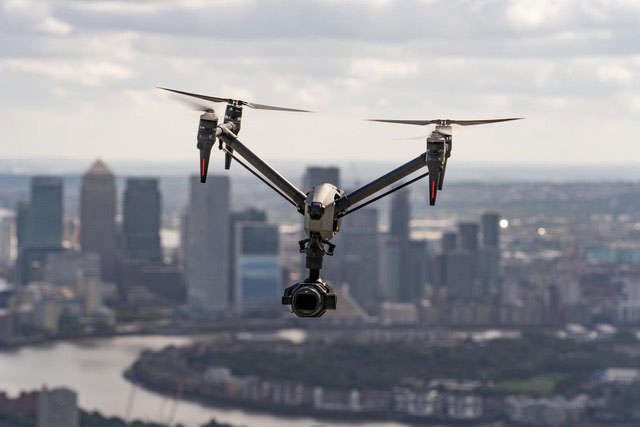 Multi-level filming platforms include:
Drones including heavy lift
CableCams
Segway
BuggyCam
Handheld Gimbals
360 VR Drone
Drone LED light system
RC Airships
CraneCams
Recent Credits include:
Luther - BBC1
Cheat – ITV
This Morning – ITV
Sick of It – Sky One
Bounty Hunters – Sky One
Gomorrah – Sky Atlantic
Endeavour – ITV
Final Score - Film
Grand Designs – Channel 4
Walk Like a Panther – Film
Celebrities on the NHS Frontline – BBC1
The Parachute Murder Plot – ITV
Lucy Worsley's Fireworks for a Tudor Queen – BBC4
Holby City – BBC1
Theresa Vs Boris : How May Became PM – BBC2
Eubank Jr V Abraham – ITV Box Office
Loaded – Channel 4
Quacks – BBC 2
Troy Highwire – Channel 4
Silent Witness – BBC 1
Thirteen – BBC3
Lucky Man – Carnival
BBC Music Awards
Top 10 Biggest Beasts Ever – National Geographic
Products / Services / Credits
Drone Hire
HD / 4K systems
Stabilised Camera Gimbals
Live Broadcasting
Night Flight Permission
Special permission to operate up to 10m in congested areas
CableCam Hire
Radio Controlled Airships
Telescopic MastCam Hire
Heavy Lift
Find Skypower Aerial Filming in
Location of Skypower Aerial Filming

Innovative and versatile, our experience in all aspects of aerial filming - from documentaries to features and commercials – means that we are able to deliver bespoke aerial solutions for each client's shoot requirements.

Award winning Drone hire aerial filming & CableCam filming. Regularly hired and trusted by Producers & Directors.
Special permission to operate up to 10m in congested areas
Heavy lift
Live broadcast
Night flight permission

The stabilized camera mounts that we can offer include the Eclipse, Shotover K1, Shotover F1, the Super G, the Stab C, Stab C Compact, Cineflex Elite, Cineflex Ultra, Cineflex V14 the Flighthead and others.