Address
119e Cleveland street,
London,
London,
W1T 6PY,
England

About Rob Nixon
London & Brighton based video editor/cameraman with over 20 years professional experience
About Me
I am a Freelance Video Editor and Final Cut Editor in London working mainly on Apple's Final Cut Pro. My experience in the industry began in 1991 at Shepperton Studios as a production assistant, before starting as a Video Editor. Working for most of London's major agencies and production companies I have edited all kinds of broadcast and non-broadcast projects from corporates to documentary to commercials. I have very good industry links and was recently interviewed for the Final Cut Magazine as an industry expert. For larger production work I can provide additional London Final Cut editors, motion graphic designers and film crews. My rates are at a professional standard but I'm happy to discuss ways to fit your budget. I work as a Limited Company, Boutique TV Ltd, which is VAT registered and has public liability insurance.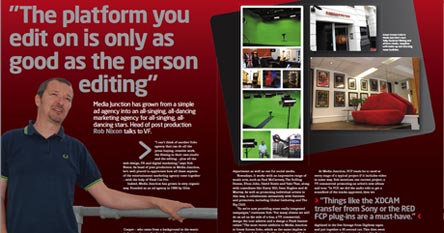 Video Editing
Being a Freelance Video Editor is a passion that requires a varied skill set. I can offer excellent technical and engineering skills, a creative approach to your job and the client skills to work successfully with your team. Whatever the project is, I can provide help and assistance to guide you through the process.
Interview Filming, Event Filming & Stills Photography
I cover interviews, events, lectures, meetings, conferences, focus groups, product launches and vox pops. Working with some of London's best cameramen & directors I also provide a full production service from script writing to editing.
Post Production Management & Consultancy
Having a freelance video editor onboard a project who understands best practice and cost management is vital to its success. Making online video content that is engaging requires a different approach to the traditional production process, all of this I can help with.

Editing - All aspects Sponsors

@Voytek has three edit suites, film crews, duplication, multi media capability, graphics design and production based in house in our central London location.