Company:
Glocal Media Ltd
Address
Golden Cross House,
8 Dungannon Street,
London,
WC2N 4JF,
England

About Glocal Media Ltd
A wealth of expertise
Good idea! You've decided to improve the impact and reach of your message by putting it into other languages. We're guessing you need accessible prices, high quality results and fast turnaround? Excellent, you've come to the right place…
Based in central London since 2004, we work in over 200 languages for your requirements in broadcast, DVD, Web or written text. We have a wealth of experience in all sectors and you can rely on our honest assessment and guidance to help you achieve exactly what you need.
Offering a full range of services - with an established network of translators & subtitlers and a constant investment in the latest technologies – we'll provide everything you need. What's more we offer a three hour turnaround on quotes – so can we help you today?
Services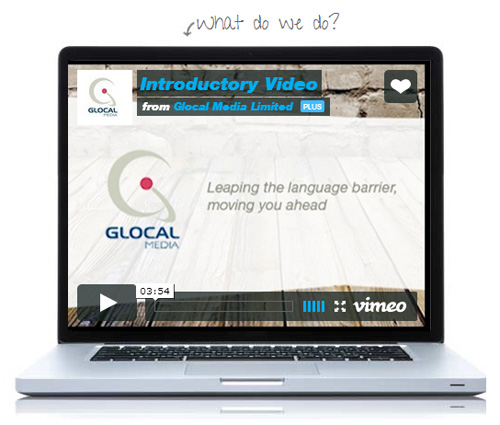 Why choose us?
We're a One Stop Shop
We are able to provide a full range of multilingual versioning and associated production services all under one roof, saving our clients valuable time and offering significant cost savings.


Our Knowledge and Experience
The senior management team has been in the industry for over 20 years and their knowledge and experience is second to none. We take a highly consultative approach to our clients' requirements and manage projects meticulously to ensure they are always precisely met.


We're Reliable
Our clients are busy and their deadlines always tight, and so we pride ourselves on being a reliable partner they can trust to consistently deliver on time, every time.


Our Personal Touch
While the size of the companies we work with varies from individual freelancers to multinational FTSE 100 organisations, the quality of customer service they receive does not. Our personal touch and enthusiasm for what we do means we have built up an extremely loyal client base over the years.
Location of Glocal Media Ltd