Address
Bridge House,
Branksome Park Road,
Camberley,
GU15 2AQ

About BorisTV
BorisTV is a HD outside broadcast company with over a decade of industry experience. The company offers clients a flexible range of services which include filming junkets, royal celebrations and large sporting events. BorisTV has offered clients a completely tape free service since 2008.
Broadcast & Production
BORIS TV offers Production services In HD and other broadcast standards facilitating engineering and production work flows for Broadcast, Corporate and wider media applications.
Broadcast
BORIS Televsion offer a range of broadcast production units supplying HD and SD equipment and services for Outside Broadcast. In outline, we have the following resources:
HD or SD equipped units configurable for 8 or more cameras. Also available, dismounted OB units typically for 4 to 8 cameras. We also have a fibre-optically delivered field distribution unit for events where input recording and re-distribution is a requirement. In addition we have a number of portable field options which can be configured to support clients.
Production & Crewing
At BORIS Television we have the skills required to undertake the production management requirements for a wide range of production scenarios. In taking this on we relieve clients of these administrative requirements freeing them to concentrate on their production schedules. We are able to co-ordinate Directors, Vision Mixers, Lighting Camera, Camera Operators, Sound Recordists, Comms Engineers, Vision Engineers, Lighting Directors, Electricians and so on.
Equipment Hire
We have an extensive range of equipment suitable for work in HD and SDÂ for both PAL and NTSC environments.
Boris TV has a policy offering the client the camera of his choice to suit the task. We own few cameras but have configured our production equipment to interface with a wide range of camera options. Our arrangements with specialist rental houses allow us to supply cameras to clients at competitive rates. We are often able to integrate clients cameras into our systems.
We are expanding our range of special purpose lenses, available on a dry hire or package basis. They include Leica prime lens for Macro work available in Sony B4 and Arri PL Mounts. Also available are Box type lenses wide and telephoto for specialised productions.
Outside Broadcasting Sponsors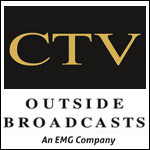 Outside Broadcasting
HD Outside Broadcasting
High Definition Outside Broadcasting
Leading Outside Broadcasting fleet UK and Europe
Contact us 020 8453 8989
Neon Broadcast Services provide location television facilities to television production companies and broadcasters, both terrestrial and satellite, throughout the UK and overseas. We offer a top level of freelance television professionals.
SIS LIVE can cover any event quickly and completely. Our approach to Outside Broadcast means we can offer you an unrivalled service. Specialist cameras, customised production units, mobile editing suites, HD transmission – when you need it, the largest fleet in Europe will be ready.