Company:
Eye for an Eye Media Limited
Address
70 Newcomen Street,
Hanwell,
London,
SE1 1YT

About Eye for an Eye Media Limited
Eye for an Eye Media (i4ni-media) is a west London based video production company offering a comprehensive and competitive range of script-to-screen services to clients, ranging from promotional videos for businesses and services, web content and virals to training videos and short films (drama and comedy). Their expertise also includes mentoring and supporting scriptwriters with their projects. Whether you are looking to devise and develop your script, bring your idea to the screen, or need experienced professionals to handle your video and film making needs, i4ni-media can offer you the expertise you require.
Short comedy about the perils of conforming slavishly to fashion and following celebrities, no matter what they get up to.
Synopsis: Three fashion keen girls meet to discuss their friend's latest plastic surgery. When she arrives to show them they are initially shocked at the results but become envious after they discover the 'enhancement' is vogue amongst celebrities.
Written produced and directed by David Kline and Mark Evans
Prosthetic make-up created by Robb Crafer
Short promo produced, directed and edited by David Kline. This is a brief introduction to the services and expertise offered by Club Twenty Two a private gym based in central London. For more information about Club Twenty Two.
Created as a spec commercial to demonstrate storytelling in a ultra-short form. The concept deals with selling an attitude, doing someone a favour and feeling good about yourself.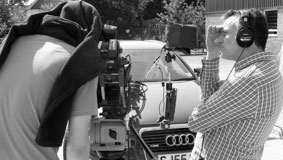 Find Eye for an Eye Media Limited in
Location of Eye for an Eye Media Limited
Video Production Company Sponsors

BANTER IS AN AWARD WINNING DIGITAL AGENCY. WE SPECIALISE IN MARKETING, SALES, PR, ADVERTISING AND CREATIVE. BASICALLY THIS MEANS WE HELP OTHER COMPANIES TO GENERATE NEW BUSINESS, INVENT CREATIVE CONTENT AND IMPROVE BRAND VISIBILITY AND AUTHORITY.

0161 339-3741

Our Services Include…
VIDEO PRODUCTION
VIDEO STREAMING
MEDIA ENCODING
GRAPHIC & WEB DESIGN
FILM & CINEMA
DVD AUTHORING
DVD DUPLICATION
EVENT RECORDING

NextShoot are experts in corporate video. From internal communications to thought leadership, sales and product videos to full blown documentary we work with global brands to deliver their video content.