Company:
Sizzlers Catering Services
Address
London,
London,
SS12 9EJ,
UK

About Sizzlers Catering Services
Allow us to introduce ourselves, we have been trading since 1980 and have established a fleet of first class fast food units providing you with a very professional and clean service at all times.
MENU
We pride ourselves in the variety of foods we can offer you from general purpose (burgers and hotdogs) to roast pork and beef baguettes, tasty steak baguettes, freshly prepared Chinese noodles with chicken or beef and a variety of sauces, delicious hot crepes, fish & chips, Belgium waffles served with cream or ice cream, freshly made sugar donuts, German sausages, dairy ice cream, slush puppy and much more.
If you would like us to provide something that is not on our menu, we can always discuss this matter with you.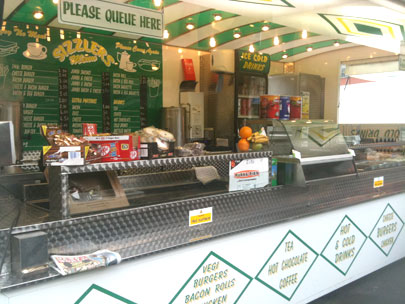 Our company have attended many events from small school fetes to massive 3 day music festivals.
We also provide static 24 hour catering for building sites selling everything from full English breakfasts to dinners. We can be on site and operating in less then 6 hours if necessary.
Some events and festivals we have attended:
Brighton Pride, Preston Park.


Country show, Parkers Piece


Lowerstoft Air Show


Cromer Carnival


Clacton Carnival


Tendering Hundred Show


Ipswich Firework Display


V-Fest


DLR train services in London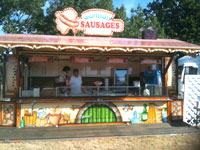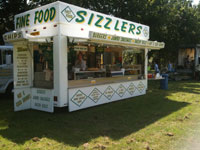 SAFETY
Safety always comes first here so all of our units are kept to the highest standard and are inspected regularly by our district council, checking we are up to date with temperature records and all hygiene issues. All of our staff are fully trained by ourselves and all hold NCASS hygiene certificates 1 & 2.
We hold public liability insurance for up to ten million pounds and all health and safety documents for trading. Our fleet of units all also hold Corgi Gas certificates for extra safety and peace of mind.
ON SITE
Our generators are all silent diesel running but if electric is on site we can use that, but running our own generators isn't a problem. All generators hold current electrical test certificates and are all inspected each year.
We carry our own fresh water tanks onboard our vehicles and we can supply you with tables and chairs or designated seating areas we provide our own litter bins for our units. We make sure all litter is picked up during and after the event.
If attendance is really high then we can fence off our units for extra safety and cleanliness.
UNIFORM
Our staff wear matching uniforms which include either brown or white shirt with a cream or green tie and brown hats or hair nets to look very clean and smart at all times during the event or times of opening.
All of our staff are personally trained so we guarantee good food and a fast service.
TRANSPORT
All of our vehicles are matching colours and so are the trailers to look very smart and clean whilst arriving on site, all are tested and re-sprayed every 18 months to keep the immaculate look we like.
If you would like any of your questions answered or you would like to book us do not hesitate to call us or email now.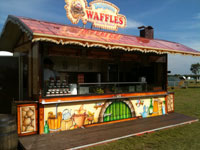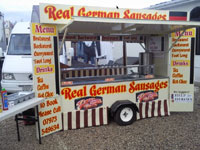 Emergency Catering
Sizzlers are available at short notice for any type of emergency or disaster.
Call Robert on 01268 573136 or 07973 549634.
Call Charlton on 07816 940334.
Hygiene Rating
Our company are very pleased to also hold a five star scores on doors hygiene certificate.
We were the only company picked for this rating in the whole of Essex so you're guaranteed a professional service.
Find Sizzlers Catering Services in
Location of Sizzlers Catering Services

Premier catering and drinks services for all events. Delivering the highest quality for both our food and service.
FILM & LOCATION CATERING
CORPORATE EVENTS
WEDDINGS
VENUES