Telephone:
0049 221-3318821
Address
Alterburger Str. 375,
50968 Köln,
UK & Germany,
Germany,
x2x

About Schnittpunkt
Bodelin Technologies, makers of the award winning ProPrompter HD, mobile teleprompters, have supplied Schnittpunkt, exclusive distributor for EU, UK, Africa and the Middle East, with the new ProPrompter HDi, the first teleprompter specifically made for the new Apple iPad.
New iPad Teleprompter has arrived
in EU and UK, from Schnittpunkt
Bodelin created mobile teleprompting in 2002 and were the first to create a professional teleprompting App for the iPhone/iPod touch along with hardware released at NAB 2009.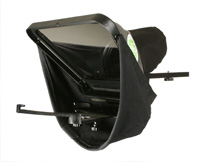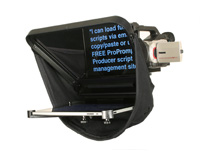 Specifically made for the Apple iPad, the ProPrompter HDi is the ultimate full size mobile teleprompter. No AC power or external batteries needed as the iPad has a 10 hour battery. The iPad screen is roughly 9" in diameter and like the iPhone and iPod touch, can easily be read in bright sunlight. Though the iPad is relatively light at only 1.6 pounds, The ProPrompter design team wanted something secure and created a new camera bar, made of light, yet sturdy, aircraft aluminum, which attaches to the base of Pro, and most, consumer cameras. Next is a custom cut of 16:9 studio quality beam splitter glass encased in a padded frame, set in a high impact ABS hood. The key to the ProPrompter HD-I is an iPad specific bracket to securely hold the iPad without slippage when shooting handheld, jib or with a steadicam. This kit also includes the ProPrompter anti-reflection mask and the new ProPrompter handheld grip with ¼" tripod mount. Setup is about 1 minute and comes in a newly designed SKB waterproof military grade case. The customer provides their iPad and purchases the ProPrompter App ($9.99) from the iTunes App Store.
An App Store Staff Favorite, the ProPrompter App for iPhone and iPod touch launched in January 2009 is the first professional teleprompting App. Four free feature updates later, plus a Remote Control feature and a universal app for both the iPhone/iPod touch and the iPad.
Schnittpunkt now has stock of the new ProPrompter HDi and is ready for iPad customers to purchase through them and their many dealers throughout Europe.
Schnittpunkt (CEO Thomas Nowara) based in Cologne, Germany, is the exclusive distributor for EU, UK, Africa and the Middle East for all ProPrompter products.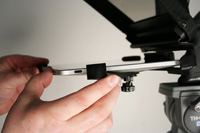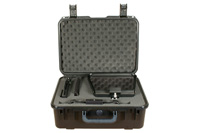 Thomas Nowara: "At exhibitions we are looking for innovative and high-quality products, which we could distribute in Europe or Germany. The key to this is "Professionalism". What does that mean for our partners? Well, we represent our foreign partners as if they would do the job themselves. Their customer is our customer.
We have worked with Bodelin for many years and we have a stable partnership which enclose a personal relationship and Schnittpunkt is also a part of the Bodelin Developer Team.
What do our dealers get from the co-operation with Schnittpunkt? Next to solid products, many years of experience, enjoyment of our work, we also offer firm agreements and functional communication.
Are you a dealer and are you interested in working with us? If so, please feel free to contact us."
Do you want to buy a HDi? Then please go to:
http://www.schnittpunkt.de/schnittshop/catalog/product_info.php?cPath=65_76&products_id=1009
For high resolution images and press review units, contact Thomas Nowara thomas_nowara@schnittpunkt.de 0049 221 331 8821.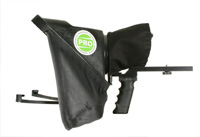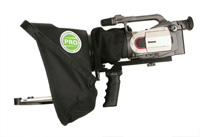 View items for sale by Schnittpunkt here.
Broadcast Equipment Sales - Video Sponsors

We specialise in the sale of brand new and previously used professional broadcast equipment.