Company:
Sugar Lips Hospitality | catering for film industry
Address
Suite 118 Pegasus House,
61 Victoria Road,
Surbiton,
London,
KT6 4JX,
UK

About Sugar Lips Hospitality | catering for film industry
Welcome to
SUGAR LIPS HOSPITALITY
, where we'll leave you with that sweet taste on your lips without all the calories to go with.
Delicious, nutritious, lovingly made dishes delivered hot and on time to your choice of venue within the M25.
Our specialty is providing tailor made menu's all be it, indulgent, healthy, vegan, alternative and choice driven to your hard working crew on set day & night.
Our business aim is at all times to supply our clients with a personable chef team who have both the culinary skills and resourcefulness to prepare distinctly personal foods that match those of our clientele, under conditions from the most obscure to the most ordinary.
We prepare all of our meals with the freshest ingredients to the highest of standards. Which we are sure will leave you feeling satisfied.
TV & STUDIO LOCATION
Catering is what we do best, offering our
HOT BOX DELIVERY SERVICE
made from our, state of the art kitchen dinner at
MALCOM RYAN STUDIOS
In
WIMBLEDON
.
If it's a set you need then please check out the link to speak to the friendly
MALCOM RYAN
reception team and get booked in whilst spaces last.
We have been in residence at
MALCOM RYAN STUDIOS
in
WIMBLEDON
since 2009.
That's an impressive
TEN YEAR RESIDENCY AT MALCOLM RYAN STUDIOS:
mrstudios.co.uk/facilities
PLEASE TAKE A LOOK AT OUR "HOT BOX" LOCATION DELIVERY SERVICE:
www.sugarlipshospitality.com
Our
SUGAR LIPS HOSPITALITY – HOT BOX DELIVERY SERVICE
allows us to deliver hot tasty dishes of your choice straight to you
ON SET or LOCATION
.
We at
SUGAR LIPS
can offer our services to you for Breakfast, Lunch, Afternoon Tea, and Late Break – even Night Shoots we can discuss.
SUGAR LIPS
is confident that whether your location is inside or outside – we have solutions to discuss with you to enable to you to enjoy our service wherever your location and whatever the weather!
Craft table options also available … to keep you going and glowing.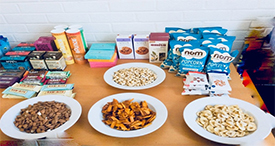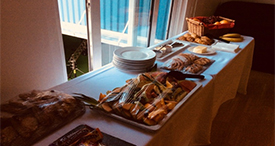 Also don't miss out on our 1 year available offer:
To Celebrate our 10 th year anniversary we would like to offer 10% discount to
SUGAR LIPS HOSPITALITY – HOT BOX LOCATION SERVICES.SUGAR LIPS HOSPITALITY
likes to work with our clients closely to ensure we provide the right decoration, food & drinks theme & food format that the client want for their event, before adding our treatment to the brief and delivering our brand of service.
SUGAR LIPS HOSPITALITY
has had a long career working on tour and for backstage catering events within the music, TV & film industry. Contact us now to find out how we can make your backstage event, an event.
As one of the best London Caterers we have hosted many backstage parties & events offering a bar, serving cocktails, mocktails, craft beers, wine, spirits and champagne's offering food served by our professional butlers & waitresses & all prepared by experienced London Caterers. With our business partners as London Caterers we have also arranged music, lighting, furniture & fabrics for the complete package for your event.
Find Sugar Lips Hospitality | catering for film industry in
Location of Sugar Lips Hospitality | catering for film industry

Antonio's TV and Film Catering we take great pride in providing and serving 5 star catering to the TV, Film, Commercials and Video Industry.

Ian Kluth: 07500276560 / Ian@antoniostvfilmcatering.com
Antony:07771883073 / Ant@antoniostvfilmcatering.com

From a fine dining event, film catering or a small intimate wedding, we are committed to bring our passion and creativity to design and deliver each and every bespoke concept for our clients.

Tel: 0207 635 0963 | Email: info@peepaluk.com