Address
6 Harrisons,
Birchanger,
Bishop's Stortford,
CM23 5QT,
England UK

About 3d Experience
The Original 3D Stereoscopic Video Production Company.
Making 3D easy since 1990. For over 20 years we have been promoting the benefits of stereoscopic 3D –  finally, the industry is listening.
3D Filming – Stereoscopic Computer Graphics – 3D Camera Mounts – DualView Monitors - 3DTV Displays – 3D Theatres. Three time DTI award Winners for 3D Technology. 
3D Experience filmed their first experimental 3D Video Pop Promo in the winter of 1985. This was captured & edited on VHS tape using a pair of low resolution security cameras, using a simple slide bar mount. 25 years and 3 government grants later, 3D Experience were demonstrating to a select audience, two 3D theatre technologies, where viewers did not need 3D glasses at all. On the 3rd January 2008, 3DE showed that it was possible for 3DHD to be captured economically with their 3D rigs, transmitted via 1 HD Channel and viewed at home on an inexpensive 3D Ready TV – nearly 2 years later Satellite and Cable Channels are following.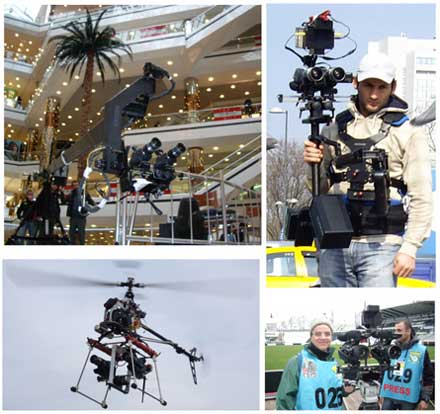 Along the way, 25 3D cinemas have been fitted with 3D Experience polarized 3D systems in Spain, the USA, the Czech Republic and the UK. These have been supplied with 3D Experience produced movies such as Battle For Treasure Castle, SeaSpace 2000, Living In VR and more recently, The Witch Way, a fully animated 3D movie in High Definition using 3DE's fully interactive software 3D camera rig. Besides the entertainment sector, 3D Experience manufacture 3D capture & viewing technology for the military, medicine and space sectors and over two decade in the business, have built up an impressive client list. 
The Company's 3D knowledge base is vast and they will usually find a solution for even the most challenging technical problem. Equipment for hire and for sale range from miniature stereo camera mounts to 300mm rigs for steadycam or un-manned aircraft. Their popular larger pro-mounts are being used for 3D feature films and were used for the BBC's rugby 3D trials and even Channel 4 used a Pro-mount for recording Her Majesty the Queen. 
3D Experience's revolutionary 3D CamBuddy Dual-view monitor, essential, in the alignment of stereo cameras, has matured from a low powered 4:3 ratio monitor to the ever popular 16:9 version. Two further models are in development - a 1,000 lumen Hi resolution sunlight readable version and a Pro 2D/3D version. These, being part of the ever growing treasure trove of know-how, skills, techniques and patents of future capture & display 3D technology products. 
3D Experience's consultancy services and equipment are available for all types of 3D stereoscopic content creation including feature films & TV  drama, documentaries, corporate and sporting events or product launches. Camera equipment will usually be accompanied by a skilled operator. Single day or project quotations can be obtained via email at
info@3dexperience.co.uk
.
Location of 3d Experience
Video Production Company Sponsors

BANTER IS AN AWARD WINNING DIGITAL AGENCY. WE SPECIALISE IN MARKETING, SALES, PR, ADVERTISING AND CREATIVE. BASICALLY THIS MEANS WE HELP OTHER COMPANIES TO GENERATE NEW BUSINESS, INVENT CREATIVE CONTENT AND IMPROVE BRAND VISIBILITY AND AUTHORITY.

0161 339-3741

Our Services Include…
VIDEO PRODUCTION
VIDEO STREAMING
MEDIA ENCODING
GRAPHIC & WEB DESIGN
FILM & CINEMA
DVD AUTHORING
DVD DUPLICATION
EVENT RECORDING

NextShoot are experts in corporate video. From internal communications to thought leadership, sales and product videos to full blown documentary we work with global brands to deliver their video content.