Contact:
Nathan Anderson-Dixon
Address
Beech Tree Farm, Pasturefields,
Sturston,
Stafford,
Ashbourne,
ST18 0RB,
UK

About The Mini Farm
At The Mini Farm we offer a traditional farm experience providing interactive fun with a variety of farm animals.
A mobile petting farm enables people of all ages, especially children to feed, touch, smell and hold the animals.
The Mini Farm is great for summer fetes, parties, corporate events and family days.
The mobile petting farm, by The Mini Farm gives many children their first experience of seeing, touching and learning about animals and their role within the countryside.
The mobile farm can also be referred to as petting zoo or mobile animal farm, whatever its name, the Mini Farm is very popular with animal lovers of all ages.
Many children's story books are based on the activities around the farm, and characters such as Old MacDonald, at Old MacDonalds Farm story book.
All our animals love to be fussed over and cuddled. We have even named one Cuddle Me Do, just for fun!! Cuddle Me Do at the mobile farm loves to be petted.
The mobile farm offers a snap shot of what animals live within the countryside all around us.
The mobile farm by the mini-farm can be changed to suit many different events like children's parties, corporate family events, shopping/retail centre's and summer events/fetes.
The farm was set up by Nathan, who lives in Cubley Ashbourne, in the Midlands. If you are interested in booking the mobile farm for your event call us on 08450505805.
Naturally the most important thing to consider when moving or displaying animals is the welfare. With this in mind all we ask for is that you provide a suitable space (see picture below), water supply and if you can, some temporary shelter. It's always useful if we can park close to wherever we are setting up.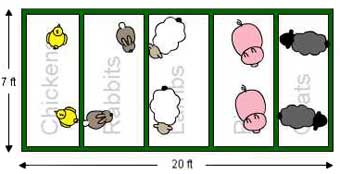 Please read our risk assessment and method statement to find out more. In order to attend your event, we require a special permit from local animal welfare and trading standards. It's always best if we have plenty of notice as these can take a week or so.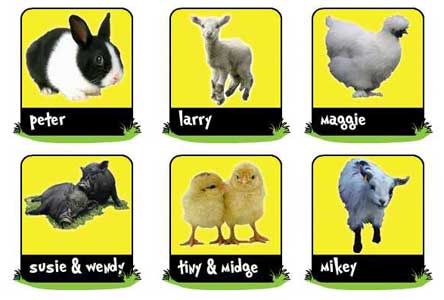 Location of The Mini Farm

Acting Animals – happy animals of all types, trained using positive reinforcement, to help you achieve your objectives. A truly professional service.

Trevor Smith has over 30 years experience in the film industry providing animals for some of the biggest film and tv productions, Animal Works has a solid reputation and is at the forefront of the animal training and Animal wrangling industry in the UK.

07956 564715

Want the very best animals with skilful, knowledgeable and experienced handlers?

With many years of practical experience and a wide range of animals trained by positive reinforcement, we know exactly how to ensure you get the shots and behaviour you want, when you want it.