Company:
Mount Pleasant Studio
Address
51-53 Mount Pleasant,
Central London UK,
WC1X 0AE,
UK

About Mount Pleasant Studio
LONDON'S MOST CENTRALLY LOCATED SOUNDPROOFED FILM & TV STUDIO FOR HIRE
Mount Pleasant Studio is situated behind a Grade ll listed Georgian facade in the heart of London, ten minutes from the West End. Mount Pleasant Studio has hosted broadcast TV (recently Channel 4's reality TV show 'Murder Island' and series for Channel 5, The Science Channel and MTV), while high speed fibre broadband and its central location makes the studio ideal for live streamed events and productions. The past year has seen live streamed awards shows (The LGBT Awards, Amazon Kindle Storyteller Award, BTEC Awards), MG's Dealer Conference, CVC Capital's investor presentation and many webcasts.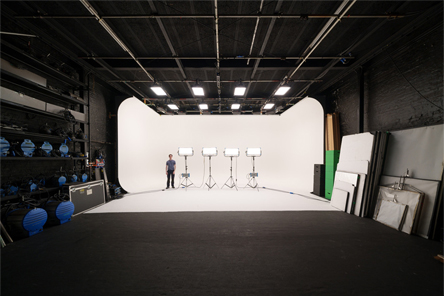 The studio continues to host commercials, green screen shoots and interviews. Its white U-shaped infinity cove is lit by 8 Nanlux Dyno 650C LED soft light panels. These are twice as bright as the spacelights they replaced, wirelessly dimmable and tuneable to daylight, tungsten or any colour.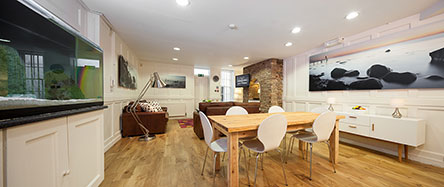 The studio is equipped with a wide range of lighting equipment, ranging from 4 x Arri SkyPanel S60-C LED panels and Arri 12Ks to a Dedo Kit, and a large selection of tools and accessories. We can hire in whatever you need that is not available on site via accounts with the major camera and lighting companies. The stage features a U-shaped infinity cove, which can be painted for Green Screen shoots. The studio is unique in having a large industrial kitchen adjacent to the stage, fully equipped with multiple ovens, gas hobs, fridges and freezers. This is included in the hire cost of the studio, in contrast to other studios, where the cost of hiring and transporting kitchen equipment must be factored into the budget.
Here are some excerpts from recent testimonials "It's always a pleasure shooting at Mount Pleasant …. everyone is on hand to help and nothing seems too much trouble.", "They had great lighting equipment and ample shooting space for our green screen shoot", "I thought that the service at the studio was exceptional." "The stage is large and has a spacious green room which was perfect for our large number of actors and clients." "It was my first big studio shoot and the team made everything easy for us. From painting the floor white overnight to printing dozens of scripts, they made sure the only drama was in front of the cameras. A well-oiled operation. The food was great. A great area downstairs for clients too.", "…rarely do you have a studio get so involved in the film and try to make your life as easy as possible. They have so much kit there that usually you're left wanting for nothing, and your outside hire list is incredibly small."
The studio is supplied by 100% renewable energy (via Ecotricity's windfarms).
Please call Simon Carter, our studio manager, for more information.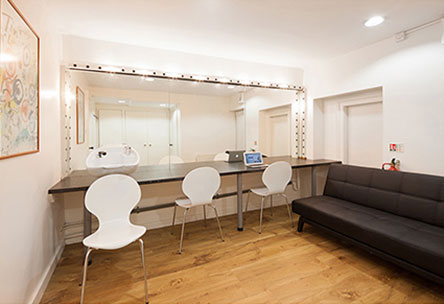 Main Studio
U-shaped infinity cove
31ft wide, 41ft deep
Full lighting grid at 15ft
Fully Soundproofed
3 phase/400 Amp power supply
Wired and wireless broadband up to 900MB/sec upload/download
Basement
Large green rooms with sofas, meeting tables and cable TV
Makeup and wardrobe room with hairdresser's backwash basin
Changing room
Shower
View our Floor Plans here
Products / Services / Credits
film studio london
tv studio
blue and green screen
U-shaped cove
in-house Arri lighting equipment
pre-rigged ceiling LED soft lights
Soundproofed stage
green screen studio
Competitive camera and lighting package deals
live streaming studio
Industrial kitchen for food shoots
large props storage area
Comfortable green room
Fully soundproof
superfast fibre broadband throughout
infinity cove
studio for tv commercials
studio for corporate video
video studio
live stream
makeup room with backwash basin
livestream
Twitter Feed

Facebook Feed
Mount Pleasant Studio In The News
Strength To Strength For Mount Pleasant Studio
Mount Pleasant Studio is celebrating 11 years as London's most central, fully soundproofed film and television studio. Its stage has a U-shaped infinity cove, pre-rigged spacelights and a wid ...
Company News
28/02/2022
New Nanlux 650C LED soft light panels at Mount Pleasant Studio
---
Mount Pleasant Studio has replaced its tungsten spacelights with state of the art Nanlux Dyno 650C LED soft light panels. They are twice as bright, wirelessly dimmable and tuneable to daylight, tungsten or any colour you like. Unlike the spacelights they hardly give out any heat, which is great for long livestreamed shoots, for example.
We made the final decision after taking part in an AdGreen online training session, which discussed ways to reduce the carbon footprint of film and TV productions.
We think London's most central soundproof film and TV studio just got better - please come over and see for yourself.
Find Mount Pleasant Studio in
Location of Mount Pleasant Studio

Central Londons fully soundproofed film & TV studio
U-shaped cove, pre-rigged spacelights
Huge array of in-house camera, grip & lighting
Green & blue screen
super friendly and helpful. A complete pleasure to work there.

IMG Studios offer state of the art HD studios from 1000sq.ft. - 2000sq.ft., post production, graphics and transmission facilities based in West London. On-site parking and catering.

We have all the services you will need on site from our own Construction, backed by Carpenters and Paint Shops, Scene Dock and Prop Room, to our Lighting Store and Canteen.