Company:
Graffitti Studio
Telephone:
+359 2 9552041
Address
Balkanton 6 Haidushka Polyana Str,
1612 Sofia, Bulgaria,
Sofia,
Bulgaria

About Graffitti Studio
Founded in 1994, Graffitti Recording Studio is among the top professional recording studios in the Balkans. The studio is well known abroad, our music production has featured on MTV, MAD TV and music compilations for Fashion TV and Cafe Del Mar.
With over a decade in business our sound engineers have recorded, mixed and mastered over 1000 singles and music albums, including international clients like 'Culture Shock', 'Naughty by nature', Joe Lee Turner, 'Trans-Global Underground' and many other popular bands.
We also specialize in the different audio processes (recording and mastering) and different genres (Hard and Heavy, Pop, Jazz, Soul and R&B, Opera and Classical, DJ, Dance and Film music). Thus we are more competent in the specific audio field and work on the music we love.
Professional musicians from Europe and North America or musicians with high criteria and expectations on their projects come to record at Graffitti Studio, not only because of the high quality sound, friendly environment, professional attitude and expertise that we provide, but also due to the very competitive prices per hour that we charge.
Really, if your budget is tight, why record in a low class studio in London or New York while for the same amount of money you can have a great 10 day vacation in Bulgaria, visit new places, meet new people and meanwhile record your album at the top music recording studio in the Balkans? There are no obvious reasons why, actually.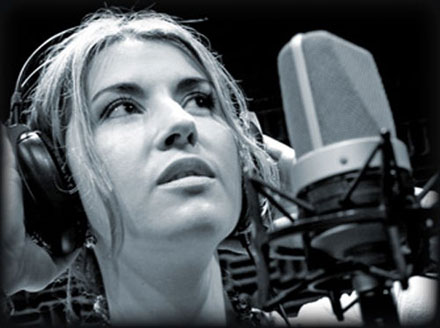 Graffitti Voiceover Studio
Since 1994 our isdn voiceover studio provides high quality audio voiceover production to numerous of companies worldwide. Our policy of 12-24 hour project delivery has turned us into a preferable voiceover service provider that can meet any deadline and with over a decade in the field our sound engineers are among the most experienced in voiceover production.
Besides the fact that we have worked on hundreds of corporate projects for companies like Microsoft and VOLVO, we have also been rewarded to work on voiceover projects for Warner Bros and to record with Hollywood casts like Morgan Freeman (The Shawshank redemption), Heather Stephens (Desperate Housewives), Greg Roach (The X Files) and many, many more.
Our voice bank supports over 30 languages and we offer our customers over 100 trained male and female native speakers for multilingual voiceover projects. We have built our voice bank patiently inspired by the fact that our customers need one contact and one service provider for all their needs. That is a cost and time saver as it gives us a chance to offer our clients very attractive discounts for a group of projects or a group of languages.
Location of Graffitti Studio
Voice-Over - Facilities Sponsors

Voice Over Soho
Specialist Voice Recording Facility
Most Competitive Rates in Soho
Top Quality Studio and Equipment
Clients Inc : EA Games, Playstation, Diesel

Facilities include:
Acoustically designed digital recording facilities.
Seating in studio for clients.
Air-conditioning.
Colour controlled fibre-optic lighting.
Wireless Internet access.