Company:
Blue Hippo HD Post Production
Address
Unit B 1st Floor The Ice House The Bond,
180-182 Fazeley Street,
Birmingham,
Birmingham West Midlands,
B5 5SE,
England UK

About Blue Hippo HD Post Production
WE EDIT RED ONE!
Blue Hippo Media now has a stand alone edit room at The Bond in central Birmingham with full HD broadcast kit. There is 24-hour access and security with on-site free parking. The location is 10 minutes walk from New Street and Moor Street Stations. Cafe on site. Free wireless internet.
YOU CAN HIRE THE FACILTY AND BRING YOUR OWN EDITOR OR USE OUR BROADCAST CREDITED IN HOUSE EDITOR.
OUR RATES ARE VERY COMPETITIVE. CALL AND ENQUIRE
Quad Intel Mac, Dual Screen
Kona 3 Card
FCP Studio 2
Shake
Creative Suite 2
RAID Storage System and SD/HD 1080p Broadcast Monitor
Free Global File Share System
50' 1080p HD Plasma Screen
To find out more go to:
www.bluehippomedia.com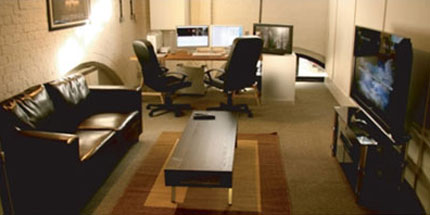 Find Blue Hippo HD Post Production in
Location of Blue Hippo HD Post Production
High Definition Post Production Sponsors
@Voytek has three edit suites, film crews, duplication, multi media capability, graphics design and production based in house in our central London location.