Company:
Sladey Broadcast
Address
11 Glendon House,
37 Brighton Road,
Sussex UK,
RH10 6AY,
UK

About Sladey Broadcast
I am able to provide camera operation for a wide variety of PSC applications spanning news, features, sport and documentaries. I am based in the South East/London area and am available for work anywhere within the UK and beyond!
I come with or without equipment, and can offer extremely competitive rates for shooting on major tape formats (e.g. Digital Betacam, BetaSX, DVCAM, and BetaSP).
You supply the gear? I supply the gear? The choice is yours...
I own a comprehensive shooting kit comprising sound, lighting, grip and monitoring which should satisfy mostlocation requirements for minimal crewing applications. Jib, radio mics, minicams and infrared pinhole cameras come as standard, so take a look at the full
kitlist
. Other kit may be easily provided on request, so please just ask.
Extensively my background has been with EFP/ENG news, current affairs, documentaries and features good use in such instances as dramatising reconstructions for example.
Having directed in the past I work well on my own when required, and operating as a single person crew is not uncommon. Equally I work well as part of a larger team and work closely with the director/reporter.
The
ratecard
is provided as a guide... If you are interested then please do
get in touch
to discuss it further and to see how rates could possibly be lowered further depending on your requirements, especially if you are genuinely budget-restricted or a charitable organisation. Also if you are after a 1980's aged look to you pictures,
I can do that too here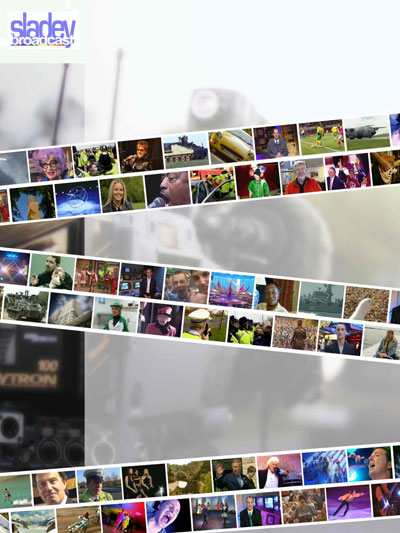 Location of Sladey Broadcast
Freelance Cameraman Sponsors

TV & Film productions have taken me to over sixty countries in the world. As a cameraman with BBC Television, I travelled from the southern tip of Africa to the Arctic Circle. Now freelance, I direct and shoot all types of programmes.

I am an Experienced and Creative TV / Film Lighting Cameraman based in Central / East England. I am available to work individually or as part of a crew all over the UK or abroad. I have around 20 years years experience in Broadcast Television, with a strong technical background.