Company:
The MGL Media Production Company Ltd
Address
31 Rutland Street,
Leicester,
LE1 1RE,
UK

About The MGL Media Production Company Ltd
MGL Media crafts high quality corporate video using experienced professionals with a proven track record in producing video for business, from documentary films to web video production.

Established in 2004 our clients now include BBC, HSBC as well as local government agencies.

Working across the UK we offer production crew hire or a full range of corporate video services such as video testimonials and promotional videos.

We now also make short documentary films about inspiring individuals and subjects.

One of our films has recently received two IVCA awards, one for Best Photography, and our cameraman is a member of the Guild of Television Cameramen. Currently we film using the Canon C300 and edit on Final Cut Pro/Premiere and Adobe After Effects.
Twitter Feed

Facebook Feed
Company News
11/10/2017
Pantherella - Makers of Fine English Socks
---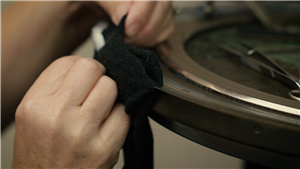 Pantherella - Makers of fine English socks - have been hand-crafting luxury socks on the same street in Leicester since 1937. To celebrate their 80th anniversary, Pantherella commissioned MGL Media to produce a film that would bring their story and passion for quality to a wider audience.
Generations of families continue to work at Pantherella
All of the socks manufactured are hand-finished by a team that includes generations of skilled workers. Pantherella is particularly known for its fine-linked toe seams and it was fascinating to capture the concentration and craft of the seamstresses at work.
Heritage and Finest Materials . . .
Producing socks for Harrods since the 1940's, as well as being stocked by some of the world's premium department stores, has given Pantherella an international reputation for using the finest materials available. Our film showcases their beautiful yarns made from Chinese Silk, Sea-Island Cotton and Cashmere.
The film needed to reflect the heritage and history of the brand, whilst highlighting its focus on contemporary fashion. Archive materials were shot alongside recent high-profile press coverage featuring film stars, musicians and royalty.
What the client said . . .
It was a pleasure to turn the spotlight on an enduring icon of the British hosiery industry and show the care and attention that goes into every pair of socks, to ensure it receives the Pantherella seal of approval. Justin Hall, Pantherella MD and narrator of the film, explained why he and the team were delighted with the film . . .
" . . . we wanted to commission a film that conveyed our heritage and experience in sock making. It had to capture the extremely high quality of our craftsmanship, materials and finished product. MGL Media helped us to achieve just that.

MGL were a pleasure to work with, both pre-production and on the day of filming, and delivered our finished film ahead of schedule. The Pantherella film is a really wonderful record of all the hard work that goes into making our socks the best."
We are proud to share another success story. Along with films for Loake Shoes and Alvis Cars, Pantherella is yet another example of a great British brand thriving against the odds.
To find out how we can help you craft your story or promote your product, drop us a line or give us a call on 0116 2612017 today.
Click
here to watch the film on YouTube.
23/11/2016
REAL PEOPLE MAKE A DIFFERENCE
---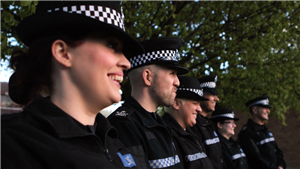 Real people make a difference. Obviously, that can be said of life, relationships, politics and business – but sometimes, as filmmakers, we forget that not every promotional video needs a professional actor or a TV presenter. That's especially true if you're promoting a campaign or scheme that relies on real people giving up their own time for the benefit of others. A number of projects we've worked on with Leicestershire Police have centred around that very theme.
Real people make a difference like the special constables seen here posing for a photograph as part of the couldyou campaign.
Special Constable Recruits – The 'real' stars of our film
A Special Campaign
Last year we were fortunate enough to produce a film to aid recruitment of Special Constables. 'Specials' have the same powers as their regular counterparts. However, they volunteer their time, often fitting their shifts around their own work and careers. In our initial research, it was clear that many existing Specials love the work they do and find volunteering an incredibly rewarding experience. From that moment, it was clear that the only way to convey that message with any kind of credibility and sincerity was to use some of those 'real' Specials in our film.
Real doesn't mean 'boring'
This is where many clients and producers can lose their way. Using staff or non-professional performers is sometimes seen as just another way to cut the budget: 'Let's just stick Dave from Accounts in a chair and have him say how wonderful spreadsheets are.'
It's true, Samuel L Jackson could read from the Excel manual and still entertain us for a few minutes, but we normal folks need to be part of a well-structured, engaging script. We need succinct, direct copy and a visual approach that best matches the intended audience. Leicestershire Police were looking for something fast-paced yet insightful and honest – the type of script we love to create.
Give it time
Seasoned presenters and experienced actors are used to hitting their marks, delivering their lines and giving you several different takes to choose from. They should be, because it's their job. But Julie from HR hasn't been in front of a camera before. She's bound to be a little nervous when you turn on the lights and say 'Action!' for the first time. We're used to putting non-performers at ease and ensure the shoot is fun and lighthearted. We don't expect them to get it right first time, second time . . . or the twenty-third time! We know our patience and friendly guidance will be rewarded with a great take and a better film. That means allowing enough time in the schedule for each participant to give a relaxed, confident and sincere delivery.
Real people really care
The other upside of using real employees and contributors? Once you unleash your film and campaign, those same people will be invested in the message. They will feel part of what you're trying to achieve or convey and they'll be more likely to share the video with friends, family and your clients. When the #couldyou promo was first shown to a group of existing Special Constables, they said they felt emotional and proud to be associated with the people and aims stated in the film.
We've had fantastic feedback from the recruitment team and, at the time of writing, the YouTube version of the promo has been watched more than 20,000 times. Proof positive that when it comes to promoting an important message or idea . . .
Real people make a difference.
What ideas or campaigns would you like to share with the world? Let us know in the comments, or get in touch to find out how we can help you craft the perfect film and campaign.
See Blog
http://www.mglmedia.tv/why-use-video/real-people-make-a-difference
Find The MGL Media Production Company Ltd in
Location of The MGL Media Production Company Ltd
Video Production Company Sponsors

BANTER IS AN AWARD WINNING DIGITAL AGENCY. WE SPECIALISE IN MARKETING, SALES, PR, ADVERTISING AND CREATIVE. BASICALLY THIS MEANS WE HELP OTHER COMPANIES TO GENERATE NEW BUSINESS, INVENT CREATIVE CONTENT AND IMPROVE BRAND VISIBILITY AND AUTHORITY.

0161 339-3741

Our Services Include…
VIDEO PRODUCTION
VIDEO STREAMING
MEDIA ENCODING
GRAPHIC & WEB DESIGN
FILM & CINEMA
DVD AUTHORING
DVD DUPLICATION
EVENT RECORDING

NextShoot are experts in corporate video. From internal communications to thought leadership, sales and product videos to full blown documentary we work with global brands to deliver their video content.