Company:
Miller's Ark Animals
Contact:
Elizabeth Miller
Address
Roke Farm,
Roke,
Odiham,
RG29 1HZ

About Miller's Ark Animals

Miller's Ark Animals
was established in 1991 by Elizabeth Miller B.A.
Cantab, as an offshoot of her main farming business in Odiham, Hants, and
has expanded steadily ever since.
Miller's Ark Animals brings the sights, sounds and experiences of the farmyard to the heart of your filming schedule, show or corporate event.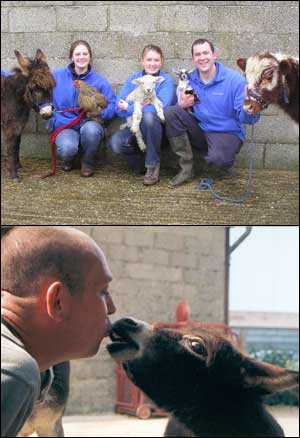 The Mobile Farm can include:

* Sheep and lambs

* Goats and kids

* Piglets

* Cattle

* Miniature donkeys and ponies

* Poultry

* Turkeys

* Ducks and geese

* Hen and chicks

* Giant rabbits

* Guinea pigs

* Farm dogs

* A reindeer
All the animals are handled daily by different team members and are used to people and being transported.
Rare breeds of most are available for period pieces.
Some are also confident inside and with stairs and lifts.
Handlers are used to filming work and aim to be professional and accomodating.
Find Miller's Ark Animals in
Location of Miller's Ark Animals
Animal Consultants Sponsors

For almost 30 years, we have supplied animals for film, stills, videos, and live performances. We are a small, dedicated and highly motivated team, working with you to produce the best results, and suing only positive reinforcement methods to train our animals.